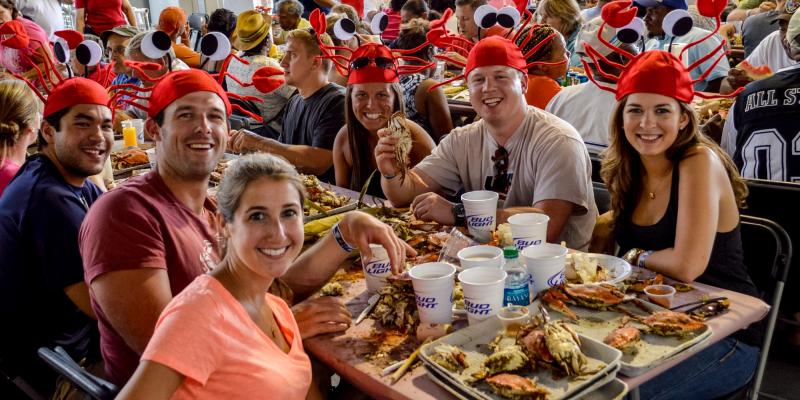 The Annapolis Crab Feast is known as the world's largest crab feast.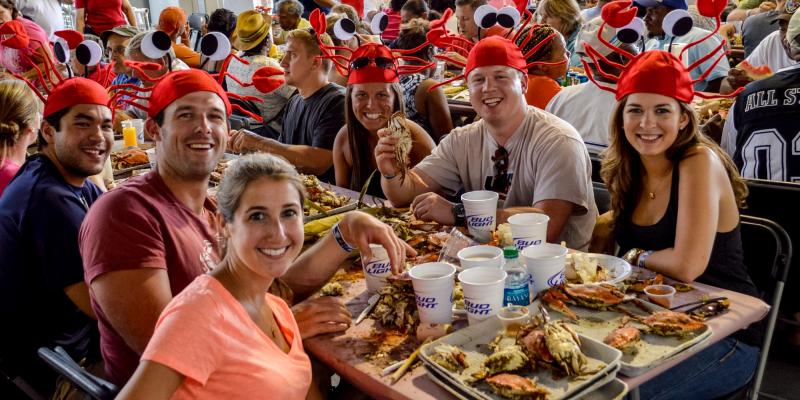 The Annapolis Crab Feast is known as the world's largest crab feast.
Capital Region Cuisine: Top Food Festivals & Events
From apples, peanuts and barbecue to seafood, beer and wine, these food festivals serve up regional specialties across Washington, DC, Maryland and Virginia!
Washington, DC Food Events
The annual September Taste of Georgetown showcases the spectacular cuisine of dozens of Washington, DC's finest restaurants, highlighting Georgetown's culinary personalities and featuring more than 60 delectable dishes to sample, as well as wine pairings and live music.
Summer's SAVOR: An American Craft Beer & Food Experience is a must-attend for beer lovers and foodies alike. Attendees can sip craft beers from small, independent and traditional craft brewers who will personally pair their offerings with sweet and savoury appetizers.
Barbecue is an American food tradition with regions from around the US specializing in different meats, sauces and cooking styles. Sample them all come summertime at The Giant National Capital Barbecue Battle. This annual competition brings barbecue teams and restaurants from around the country to compete for cash and prizes plus the chance to win the title of National BBQ Champion. Festival attendees can sample barbecue and grilled foods, enjoy live music from three stages, explore interactive exhibits and watch cooking demonstrations.
Maryland Food Events
In early August, the Seafood Feast-I-Val is held annually at Governor's Hall at Sailwinds Park in historic Cambridge. Enjoy live entertainment, craft sales, door prizes and Chesapeake Bay cuisine, including steamed Maryland blue crabs, she-crab soup, fried clams and fish, barbecue, chicken, hot dogs, corn on the cob, tomatoes and watermelon — an American summer favourite.
The U.S. Oyster Festival is held every third weekend in October in St. Mary's County. The fun-filled event includes a national oyster-shucking contest, oyster cook-off and live entertainment. Feast on shellfish and other delicious dishes all day!
First hosted in 1945, August's Annapolis Crab Feast is known to be the world's largest festival dedicated to these crustaceans. Hosted at the Navy-Marine Corps Memorial Stadium, this all-you-can-eat-and-drink event delights with large male crabs plus crab soup, sweet local corn on the cob, barbecued beef sandwiches, all-American hot dogs, watermelon and refreshing draught beers.
Virginia Food Events
The Rotary Club of Winchester's Apple Harvest Arts and Crafts Festival celebrates the autumn harvest of the fruit that was once the livelihood of most people in Winchester. The Virginia State Apple Butter Making Championship and the regional apple-pie baking contest will decide who makes this year's best tasty treats.
Hanover tomatoes are known for being large and richly flavoured thanks to the coastal, sand-rich soil of Hanover County, Virginia. They're so popular among Virginians that there's an entire festival dedicated to them! July's Hanover Tomato Festival features a cook-off, samples of the fruit prepared a variety of ways, a best-dressed tomato contest, live music and a family fun area.
Every October, the City of Suffolk celebrates its peanut history with a four-day family-oriented Suffolk Peanut Festival. The popular event offers a wide range of activities including fireworks, a shrimp feast, demolition derby, peanut butter sculpture contest and carnival rides.