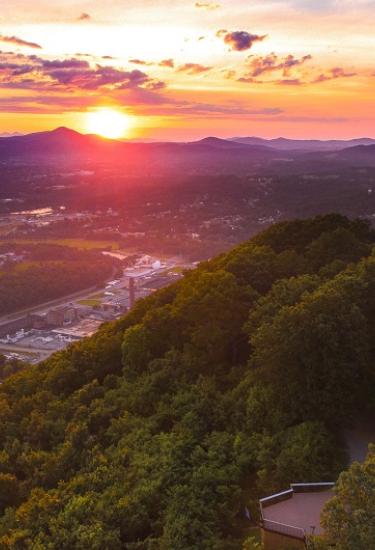 Virginia's rich history and spectacular scenery make it a perfect playground for your holiday. Don't miss its award-winning wines.
From soaring mountains to beach resorts along the Atlantic coast, Virginia is diverse enough to feed every passion. And with more than 300 wineries and nearly 300 craft breweries, it has something for every taste.
Discover outdoor adventures, mouthwatering restaurants and winding wine trails. 
And did we mention Virginia was home to historical figures like George Washington and Thomas Jefferson? This land also saw several hard-fought battles during the Civil War, marked today by historic sites and trails; six National Parks reflect on these events.
Colonial Williamsburg brings 18th-century heritage to life through historical re-enactments, tours and museum collections. Nearby, gain a glimpse into America's origins at the first permanent English colony — Jamestown — and Yorktown, where the American Revolution was won.
Getting Around
Get a feel for Virginia by viewing the map below, and explore a map of the state here.
A widespread Amtrak network means you can reach cities like Lynchburg, Norfolk, Roanoke and Fredericksburg with relative ease.
Get out and explore Virginia's 39 state parks, hundreds of miles of hiking and biking trails, and winding rivers and tributaries. Shenandoah National Park, near Luray in the Blue Ridge Mountains, is a recreational gem covering 200,000 acres of protected lands.
Annual Events
Summer's Virginia Arts Festival brings world-renowned arts to nine cities across the commonwealth, including the Virginia International Tattoo in Norfolk (28 April–1 May) where you'll revel in the sights and sounds of dancers, military bands, bagpipers and drum corps. 
Don your fanciest hat for the Virginia Gold Cup (7 May), as glistening steeds take on steeplechase obstacles to thrill spectators. 
The world's tall ships sail to Norfolk Harborfest (10–12 June) for a festive weekend of parades, boat races, fireworks displays and entertainment.
Richmond's annual VA PrideFest (June) celebrates the LGBTQ community with days of family-friendly fun, including music, drag performances and more.
 
What's New in Virginia
Right off the Metrorail, the new Capital One Center in Tysons Corner features the Capital One Hall performing arts centre, Watermark Hotel and The Perch, a park in the sky with green space, a games plaza, its own amphitheatre and the Starr Hill Biergarten. 
Shenandoah County celebrates its 250th anniversary while the beautiful Shenandoah Caverns ring in 100 years, making 2022 a fantastic time to visit the famous Shenandoah Valley. Look for fun events throughout the year, with a special celebratory festival in September 2022.
Arlington's Amazon HQ2 is slated to open in 2023, bringing an immersive, botanical public plaza touting shops, special events and community gathering places like tree-shaded forest rooms.
 
To explore the rest of the Capital Region, visit our Washington, DC and Maryland pages.