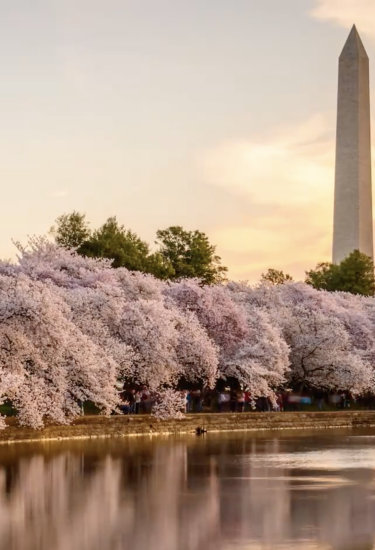 The heart of Capital Region USA, Washington, DC is compact but packs a big punch.
Washington, DC is a favourite of visitors sightseeing in the Capital Region. It's known for being the capital of the USA, but that's only the beginning: Attractions in DC include famous monuments, captivating museums (many of them free!) and the National Mall, a two-mile-long national park flanked by the US Capitol and the Lincoln Memorial.
The nation's capital has a booming restaurant scene, diverse neighbourhoods home to people and cultures from around the world, festive annual events and vibrant nightlife. Oh, and a little presidential residence called the White House.
Claim to Fame
It may be compact, but the influence of Washington, DC looms large as the nation's capital. In addition to the White House residence and US Capitol, top-notch museums like those of the Smithsonian Institution and famous monuments such as the Lincoln Memorial offer plenty of opportunities for cultural and historical exploration.
From The Wharf — a lively development along the Southwest Waterfront — to the hip 14th Street corridor near Logan Circle, DC also boasts an assortment of eclectic neighbourhoods, ideal for experiencing the city's vibrant nightlife, booming restaurant scene and diverse entertainment.
Mark Your Calendar
Arguably the most popular spring festival in the region, visitors from around the world flock to the nation's capital during the three-week-long National Cherry Blossom Festival (20 March–16 April). 
On 16 April, the city will celebrate Emancipation Day, marking the 160th anniversary of Abraham Lincoln signing the law that ended slavery in DC.
Throughout March, find citywide events spotlighting the Harriet Tubman Bicentennial — expect exhibits honouring Tubman at attractions like the Smithsonian American Art Museum, the National Museum of African American History and Culture, the National Portrait Gallery and the International Spy Museum.
The Latest & Greatest
In 2020, the iconic Franklin School building was transformed into Planet Word Museum: Immersive exhibits and opportunities for self-expression give readers of all ages new appreciation for how we joke, sing, speak, read and write. 
Opened in 2020, the National Children's Museum features interactive ways to spark creativity through play, like making clouds and collecting data with wind-propelled pom poms. 
New food halls to explore in the city include internationally acclaimed Chef Makoto Okuwa's Love, Makoto (opening in 2022) starring Japanese fare, including a ramen shop, an open-charcoal grill and a bakery, while Western Market highlights diverse eats ranging from Venezuelan arepas to Guatemalan-style hot dogs. 
The National Native American Veterans Memorial was unveiled in autumn of 2020, while several other memorials are undergoing renovations to add services and enhance visitor experiences, including the Lincoln Memorial, Korean War Veterans Memorial and National World War I Memorial.