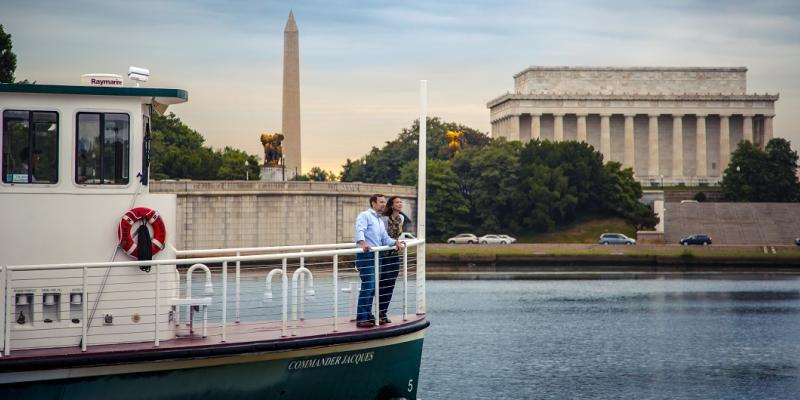 Water taxi on the Potomac River (photo courtesy of Visit Alexandria)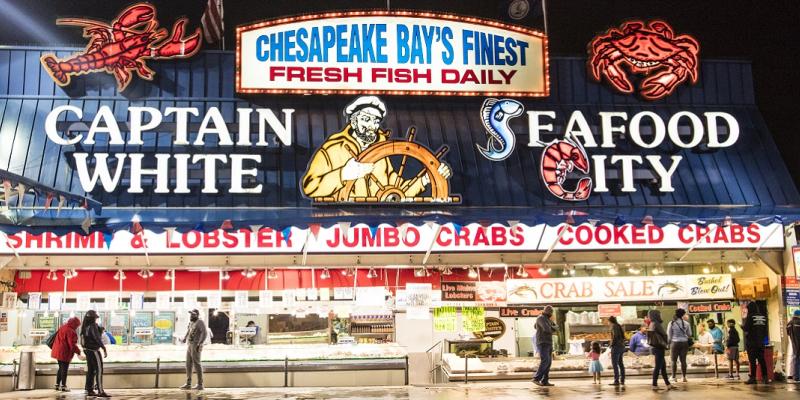 The Municipal Fish Market at The Wharf in Washington, DC (Photo courtesy of Washington.org)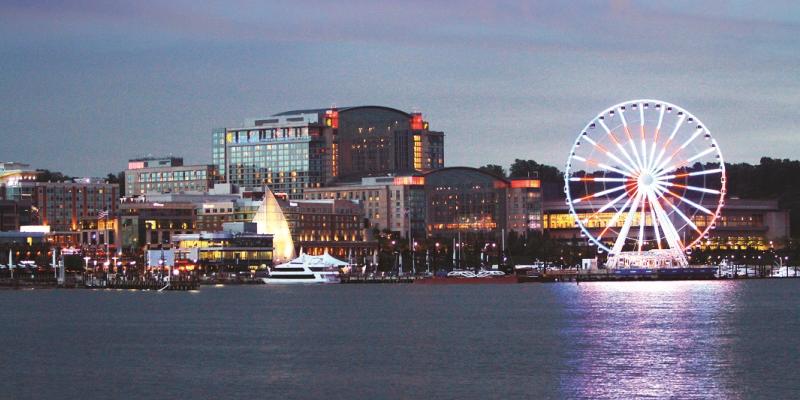 National Harbor, Maryland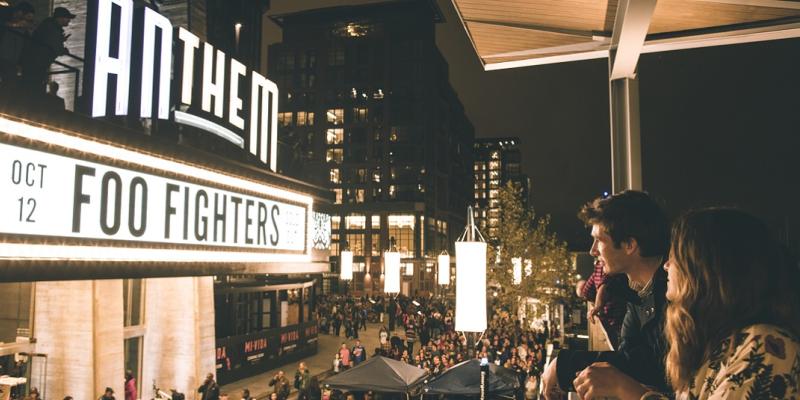 Anthem Arena at The Wharf in Washington, DC (photo courtesy of Washington.org)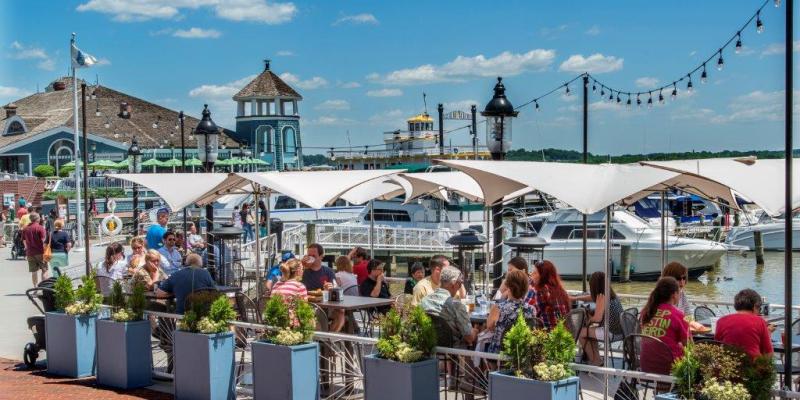 Waterfront dining in Alexandria, Virginia (photo courtesy Visit Alexandria)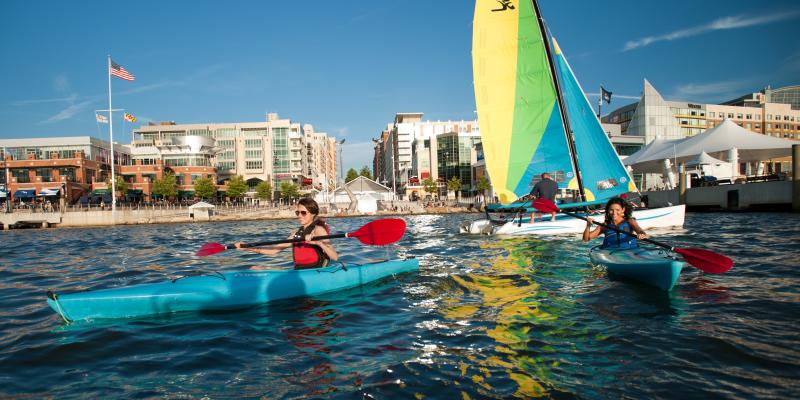 Sailing and kayaking through National Harbor, Maryland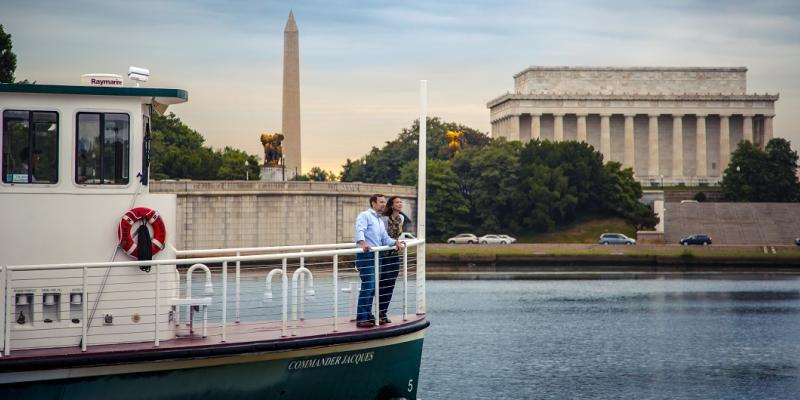 Water taxi on the Potomac River (photo courtesy of Visit Alexandria)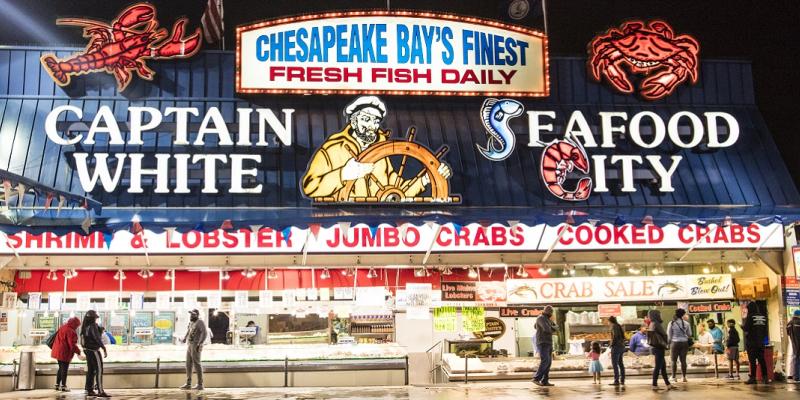 The Municipal Fish Market at The Wharf in Washington, DC (Photo courtesy of Washington.org)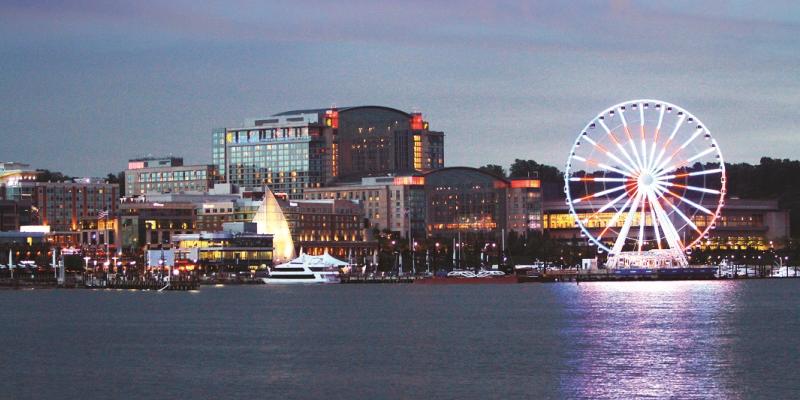 National Harbor, Maryland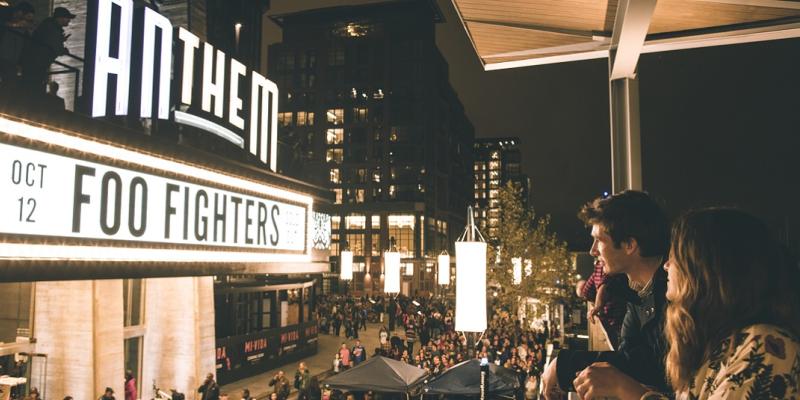 Anthem Arena at The Wharf in Washington, DC (photo courtesy of Washington.org)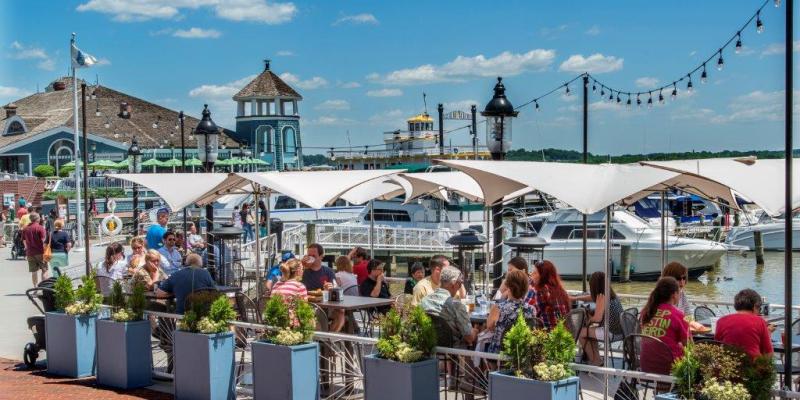 Waterfront dining in Alexandria, Virginia (photo courtesy Visit Alexandria)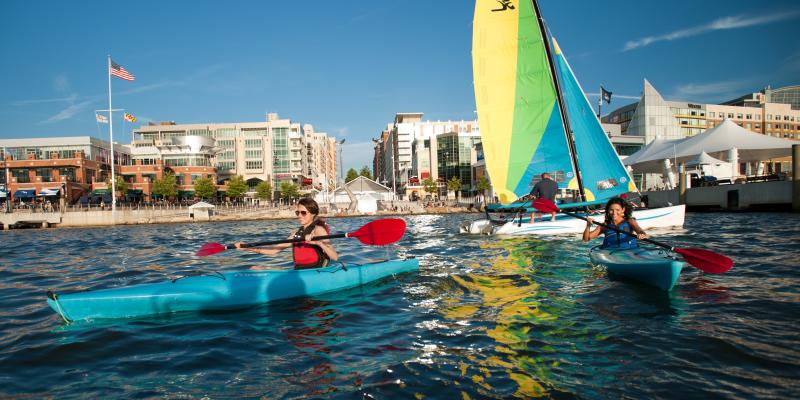 Sailing and kayaking through National Harbor, Maryland
Explore Top Urban Waterfronts in & Around Washington, DC
Visit Washington, DC, Maryland and Virginia in one day — or over several — with our waterway itinerary. From exciting accommodations and eateries to an expanding water taxi service, it's never been easier to discover the region's thriving waterfront cities.
Baltimore, Maryland
With one of the most historic harbours in the US, Baltimore is perched on the Patapsco River and offers plenty of water fun. Paddle colourful Chessie boats — the Chesapeake Bay's version of the Loch Ness monster — in the port or set for the high seas on an Urban Pirate Cruise — you'll learn how to walk, talk and dance like a pirate. Parrots, swords and eyepatches are not required to board. 
Bend your mind at the American Visionary Art Museum (AVAM), which showcases outsider art from the likes of Leonard Knight, whose Salvation Mountain was featured prominently in Kesha's 2017 "Praying" music video. If you're in town the first Saturday of May, the AVAM puts on a Kinetic Sculpture Race. This wacky world of human-powered sculptures and floats makes its way through the Inner Harbor. Past floats have looked like giant pink poodles, crocodiles and towering sub sandwiches.
On Friday nights, the National Aquarium stays open late and offers half-priced tickets to see more than 20,000 creatures. Walk under the aqua-blue water as sharks of varying sizes swim just out of reach. End your adventure with a stroll through Fells Point: The city's oldest neighbourhood is brimming with seafood joints, pubs and boutique shops. Be sure to visit The Horse You Came In On Saloon, the oldest continuously operating saloon in America. Established in 1775, it now offers live music seven days a week. 
Washington, DC's The Wharf
The Wharf is a recent recreational development on DC's iconic riverfront, bringing new hotels, vibrant retail outlets and enviable entertainment facilities to the city shoreline. Enjoy a meal at several restaurants from some of DC's most renowned chefs, followed by a show at the massive music venue, The Anthem, or smaller clubs like Pearl Street Warehouse and Union Stage. Explore more than 10 acres of parkland, four public piers or rent a bike from one of the neighbourhood's Capital Bikeshare stations to further explore the city.
But not all is new at The Wharf: The Maine Avenue Fish Market is the oldest continuously operating open-air fish market in the US and a true DC landmark. Visitors can enjoy fresh or cooked seafood, including the region's famous blue crabs, oysters, clams, shrimp and fish, from a variety of seafood barges. Popular attractions along The Wharf include Thrasher's Rum from Potomac Distilling Company — complete with a three-storey tiki bar — along with shops, boutiques and a spa.
National Harbor, Maryland
On the Maryland side of the Potomac River, National Harbor is a playground of entertainment. Here you'll find the Capital Wheel, a 180-foot-tall observation wheel situated on a pier over the water. Soar while enjoying a souvenir cup of your favourite beverage from the Flight Deck — an outdoor lounge offering bites, bubbly and local brews with uninterrupted views of DC and the Potomac shoreline.
The fun continues at MGM National Harbor, featuring a 3,000-seat theatre, luxurious hotel rooms, several distinct restaurants and eateries and a gaming floor that's bigger than The White House. Gaylord National Resort's waterfront location is steps away from National Harbor's shops, restaurants and attractions.
Families will enjoy The Carousel at National Harbor, an Americana-themed treat, as well as free seasonal concerts and outdoor films on the waterfront Plaza Stage. National Harbor is also a shopping haven with more than 85 brand-name shops to peruse at Tanger Outlets, 160 retailers in the city centre and luxury finds at MGM.
Historic Old Town Alexandria, Virginia
A nationally designated historic district and once part of Washington, DC, Alexandria boasts plenty of charm with its quaint roads and Colonial architecture, combined with views of the DC skyline. Stroll the cobblestone and brick-lined streets, exploring more than 200 independent restaurants and shops. Enjoy waterfront dining at Hummingbird, Vola's Dockside Grill and their Hi-Tide Lounge Oyster Bar. Take advantage of the Key to the City Museum Pass for discounted access to eight historic sites, including George Washington's Mount Vernon, Gadsby's Tavern Museum and the Alexandria Black History Museum.
The Mount Vernon Trail beckons runners, walkers and cyclists with 18 miles (30 km) of waterfront vistas, loads of green space and a route that runs all the way from George Washington's Mount Vernon estate to Arlington through Old Town Alexandria.
Richmond, Virginia
The site of many early US historical moments, Richmond is the thriving capital city of Virginia, and the James River is the lifeblood. Start your day atop a bike traversing the singletrack along the banks, then hop in a kayak and raft class III and IV rapids —  all taking place in the city centre. Finally, take a breather with a picnic (grab a sandwich from Chiocca's — a 70-year-old sandwich shop in the Museum District) — atop a rock at Belle Isle. 
Walk up from the river to the Virginia State Capitol, a stark white, columned building that houses the oldest elected legislative body in North America. A Sour-Patch-and-whipped-cream-topped waffle at Capitol Waffle Shop will reward your curiosity, as will a jaunt down cobblestone streets with stops into locally owned shops. 
End your day back on the banks of the James with a stroll along the popular T. Tyler Potterfield Memorial Bridge, a pedestrian and cycling pathway that sits 20 feet above the river with stunning views of the Richmond skyline. Book yourself dinner at Casa Del Barco at Canal Walk, a local, waterfront favourite with flavourful barbacoa quesadillas and decadent chocolate-stuffed churros. 
Getting Around: Water Taxis & Cruises
Many of these destinations feature marinas welcoming boaters from near and far. No boat? No problem: A scenic way to cruise the Capital Region, water taxis are both convenient and panoramic, offering visitors a unique perspective of the region's iconic skylines.
The massive fleet at City Cruises by Hornblower offers dinner cruises and sightseeing tours aboard the Odyssey and Spirit ships, as well as private yacht charters. Hornblower's Potomac Water Taxis transport visitors from the Wharf's Transit Pier to five destinations throughout the Capital Region, including DC's Georgetown neighbourhood, Old Town Alexandria and National Harbor. Sightseeing excursions include a Monuments Tour, seasonal cherry blossom tours and tours to Mount Vernon. And if a professional baseball game or football match sounds like the perfect addition to your agenda, the Baseball and Soccer Boats are the best way to get to a Washington Nationals or D.C. United game.
Operating on the Potomac River for more than 25 years, Capitol River Cruises offer various cruise options such as sightseeing tours (the sunset tour is a great time to capture Instagram-worthy shots of the city skyline) and crab boat tours including an all-you-can-eat crab feast! If you're looking for a more intimate journey, Embark DC offers private, custom-crafted cruises for up to six passengers. 
The Baltimore Water Taxi can ferry you around town, but they also offer unique cruising options like a tour to the city's Historic Fells Point neighbourhood (home to some of the best bars and restaurants in the city) or bring your favourite beverage and snack to enjoy on a twilight or setting sun excursion.  
Discover More
Explore the area's many beaches and waterways, plus waterfront attractions and destinations in and around Washington, DC. 
Want to learn even more about the Capital Region? Check out our latest holiday guide!