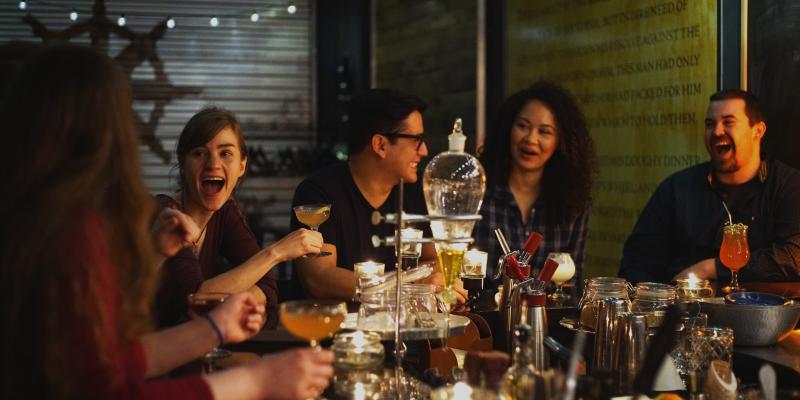 Captain Gregory's speakeasy-inspired restaurant and cocktail lounge in Alexandria, Virginia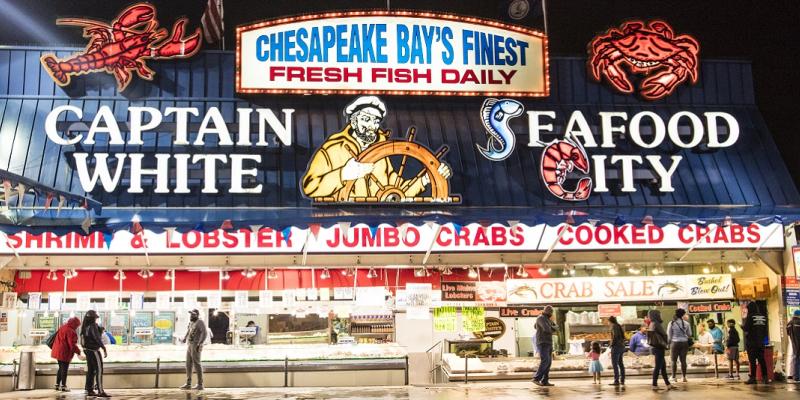 Maine Avenue Fish Market in DC's Wharf neighbourhood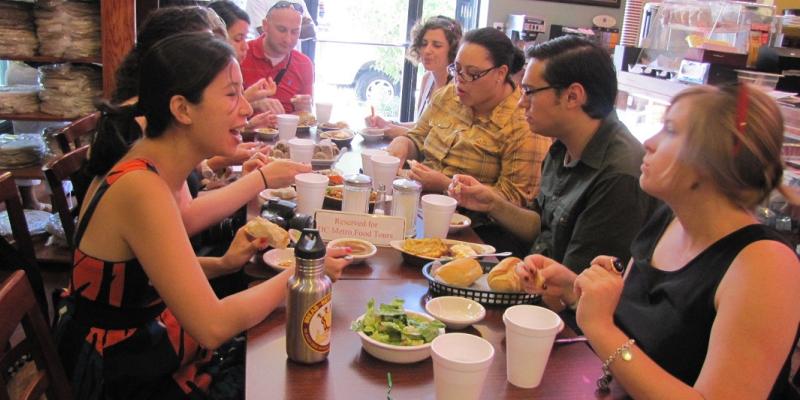 Explore DC's diverse culinary landscape with DC Metro Food Tours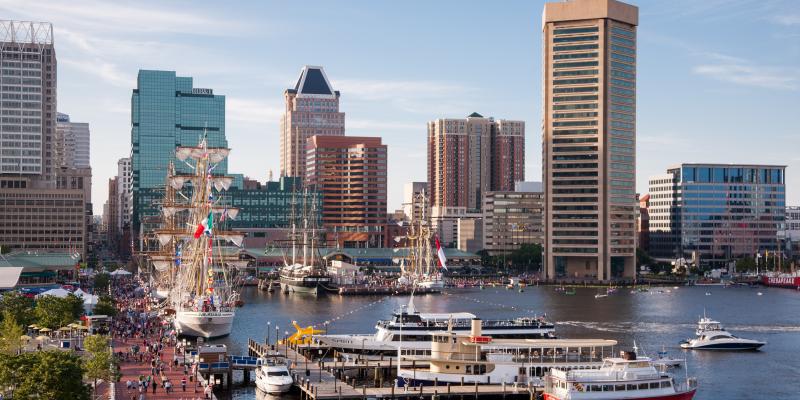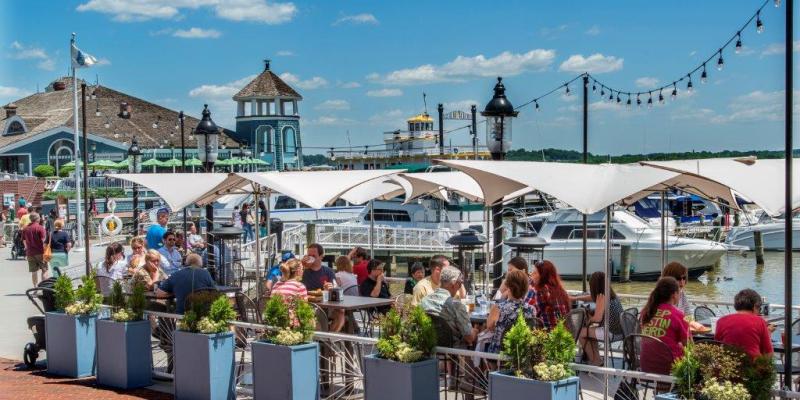 Alexandria offers many waterfront dining options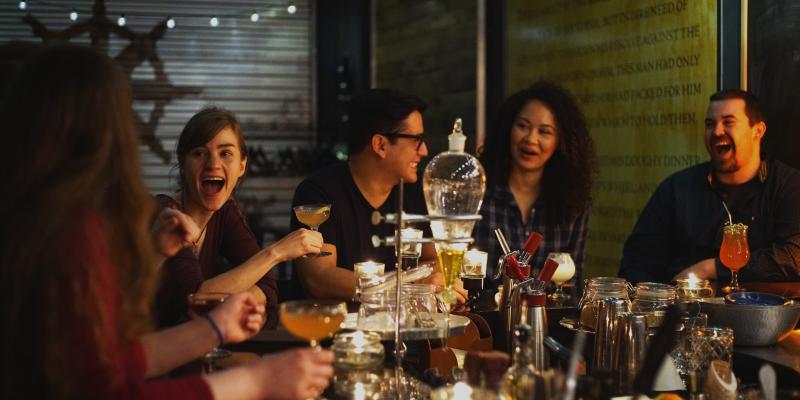 Captain Gregory's speakeasy-inspired restaurant and cocktail lounge in Alexandria, Virginia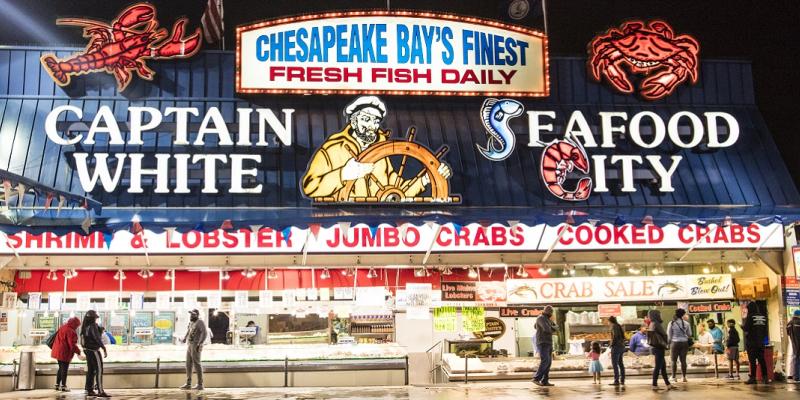 Maine Avenue Fish Market in DC's Wharf neighbourhood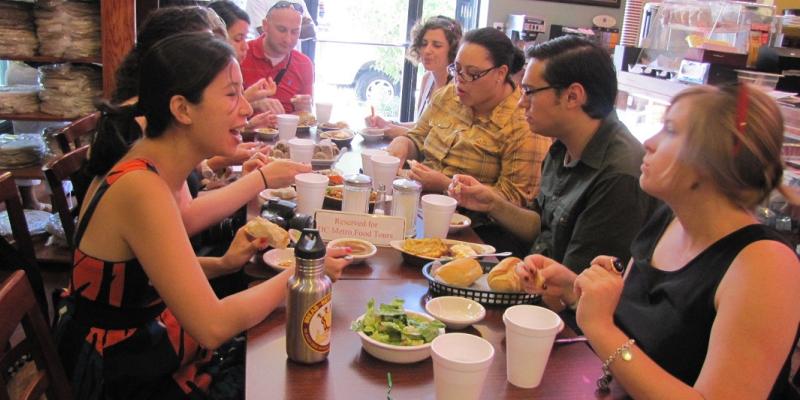 Explore DC's diverse culinary landscape with DC Metro Food Tours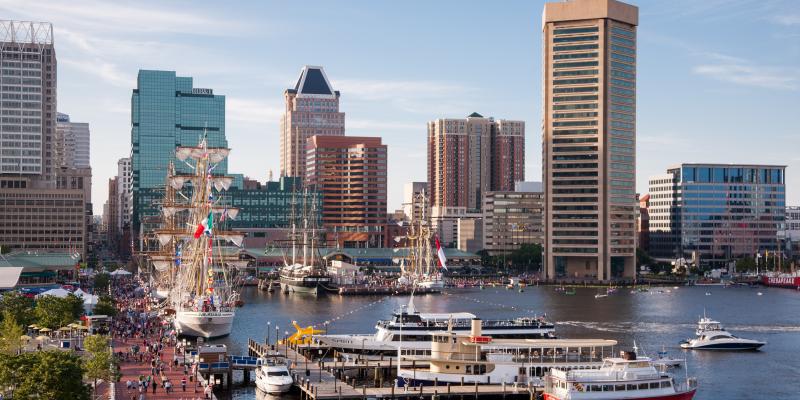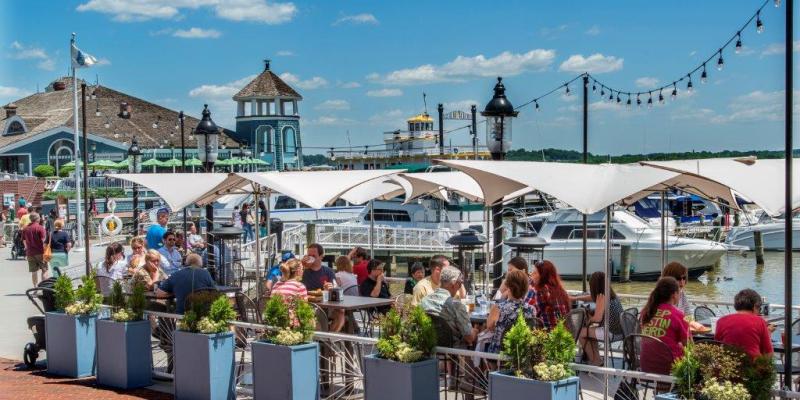 Alexandria offers many waterfront dining options
6-Day Culinary Itinerary: DC, Baltimore, and Alexandria
If outstanding food and drink set the table for your perfect holiday, then this is your go-to itinerary for exploring the Capital Region. 
Eat your way around Washington, DC with DC Metro Food Tours, currently offering more than 20 culinary adventures in areas such as Georgetown, Capitol Hill, Little Ethiopia, Dupont Circle and Eastern Market. Whatever tour you choose, be sure to finish with dessert at the original Georgetown Cupcake which opened in 2008 and has now expanded with locations in Bethesda, New York City, Boston, Los Angeles and Atlanta. 
Food and culture go hand in hand at many Smithsonian museums. The National Museum of American History is home to the exhibit FOOD: Transforming the American Table 1950-2000, where Julia Child's home kitchen serves as the opening story of the museum's first major exhibition on food history. Opened in 2016, the National Museum of African American History and Culture is the newest Smithsonian museum and one of the most popular tickets in town. While admission is free, timed-entry passes are required. While visiting, be sure to have a meal at the museum's Sweet Home Café, featuring foods showcasing the rich culture and history of African Americans.
Visit DC's newest neighbourhood, The Wharf, to discover a mix of the city's past and present. Opened in 2017, The Wharf has revitalised the Potomac River waterfront in the south-west part of the city. The Wharf's opening brings more than 20 new restaurants and bars from some of DC's top chefs to the neighbourhood, as well as a distillery. It's also home to Maine Avenue Fish Market, the oldest continuously operating open-air fish market in the US. The market features many ready-to-eat options made with some of the freshest seafood in the city.
DC received its first Michelin Guide in 2016, covering more than 100 restaurants around the metropolitan region. Whether you want to indulge in a multi-course feast at minibar by José Andrés or Pineapple and Pearls, two of the city's 2-star establishments, or explore the diverse cuisines and cheap eats from the Bib Gourmands and Under $25 lists, the guide is essential for exploring the vast landscape of DC's booming dining scene.
Say farewell to DC and move on to Baltimore, a must-visit destination for food lovers. While it's known for crabs and fresh seafood, there's so much more to Charm City's culinary scene.
Fuel up for a day of touring at Miss Shirley's Café, a Baltimore-favourite loved for its eclectic, American South-inspired breakfast, brunch and lunch. Make a point to explore the Inner Harbor, taking time to experience top attractions like the National Aquarium, Maryland Science Center and Port Discovery Children's Museum. Or, go shopping at The Gallery at Harborplace. Finish the day by getting out on the water with a dinner cruise of the harbour on the Spirit of Baltimore.
Get the full experience of the city and its cuisine with Charm City Food Tours, which combines history, architecture, culture and local fare from family-owned restaurants and shops in the area's historic neighbourhoods. Or, spend an afternoon touring Baltimore's best breweries including Heavy Seas, Oliver Brewing Co. and Diamondback Brewing on a City Brew Tour. Also included on this tour is a beer-centric meal at The Brass Tap Craft Beer Bar.
Lexington Market has been selling local foods since 1782. Today, the market's 130 merchant stalls offer prepared foods and in-market dining as well as vendors selling fresh meats, seafood and produce. Stop by to sample several of Baltimore's favourite foods like the nationally acclaimed crab cakes at Faidley's Seafood, Berger Cookies from Berger's Bakery or Goetze's Vanilla Caramel Creams from Konstant's Nuts.
Combine art with dining at one of the city's many museums. The Baltimore Museum of Art (BMA) houses an internationally renowned collection of 19th-century, modern and contemporary art and the largest holding of works by Henri Matisse in the world. John Shields — nationally acclaimed cookbook author, chef and host of his own syndicated cooking program — brings his signature Chesapeake Bay cuisine to the BMA with his restaurant, Gertrude's. Discover one-of-a-kind exhibitions at the American Visionary Art Museum (AVAM), dedicated to showcasing the works of American artists who have not been formally trained. While not actually inside the museum, The Rusty Scupper is only a five-minute walk away. Enjoy a view of the harbour while you savour Baltimore favourites, like Chesapeake Bay Crab Dip and catch-of-the-day seafood specials.
Just across the Potomac River from DC and about a 1.5-hour drive from Baltimore, discover historic Alexandria, Virginia. 
King Street is a walkable mile in Old Town Alexandria, lined with independently owned eateries and unique shops. Popular dining options include Hank's Oyster Bar and The Majestic. Looking for a meal with a view? Continue down King Street to the waterfront. Here you'll find several restaurants specialising in seafood and remarkable vistas, including Chart House, Blackwall Hitch, and Vola's Dockside Grill.
Also located on the waterfront, the Torpedo Factory Art Center is home to the largest number of publicly accessible artists' studios in the US. Housed in a former naval munitions plant, the art centre features 82 studios, seven galleries and more than 160 juried artists. 
Given its proximity to DC, Alexandria has a long history of catering to presidents and political elites. Whether you want to try some of the Obama family's favourite eateries like Vermilion, or something more classic, like Gadsby's Tavern — once frequented by George Washington and the first five US presidents — Alexandria's dining options are truly historic. 
Cruise down the Potomac River from Old Town Alexandria to George Washington's Mount Vernon with City Experiences by Hornblower Cruises. This seasonal tour allows you to take in the views along the river on the way to the estate of George Washington, the first president of the United States. Guests can also cycle to Mount Vernon along the Mount Vernon Trail and then take the return cruise from Mount Vernon to Alexandria. If time allows, stop in for a tour of the working recreation of George Washington's distillery and grist mill or enjoy the dishes of early America at the colonial-inspired Mount Vernon Inn Restaurant.
Finish your culinary tour of Alexandria with a creative cocktail at Captain Gregory's, a speakeasy-inspired lounge, or grab a beer at Port City Brewing Company, a craft brewery whose name hearkens to Alexandria's history as an important colonial seaport. 
Hungry for More? Explore Capital Region wine and cuisine. Discover food tours across DC, Maryland, and Virginia and view our culinary photo tour.