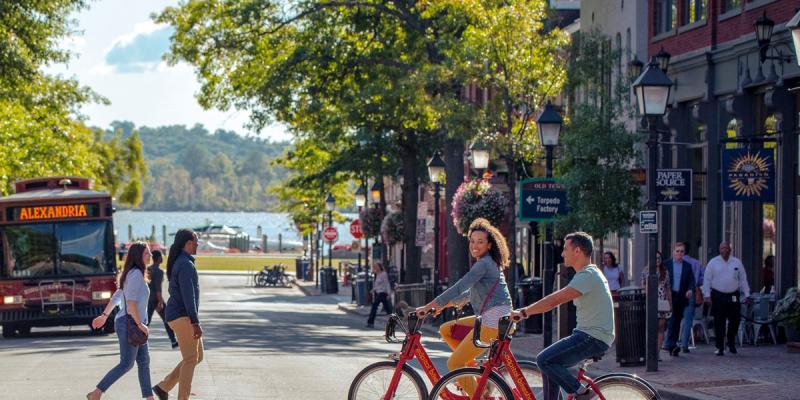 Biking on King Street (photo credit: Kristian Summerer for Visit Alexandria)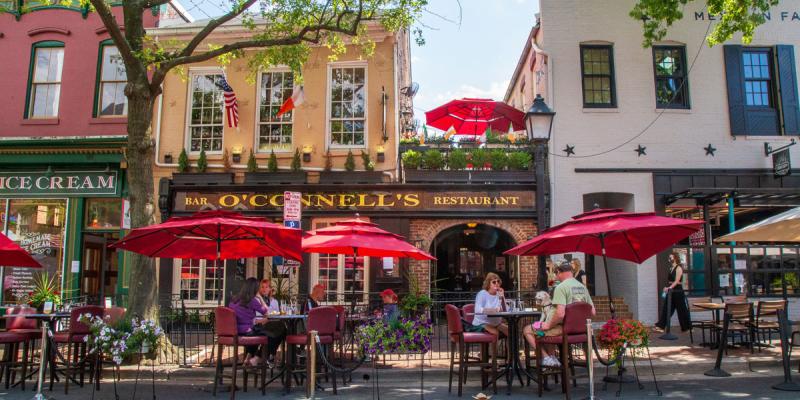 Ample outdoor dining in Alexandria (photo credit: Misha Enriquez for Visit Alexandria)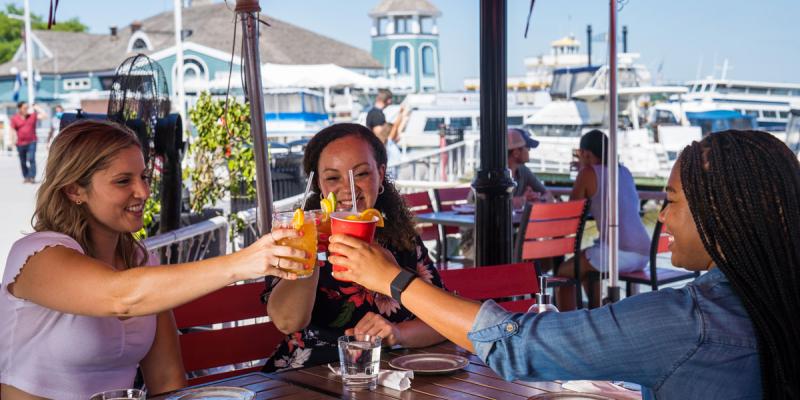 Cocktails at Vola's Dockside Grill (photo credit: Chris Cruz for Visit Alexandria)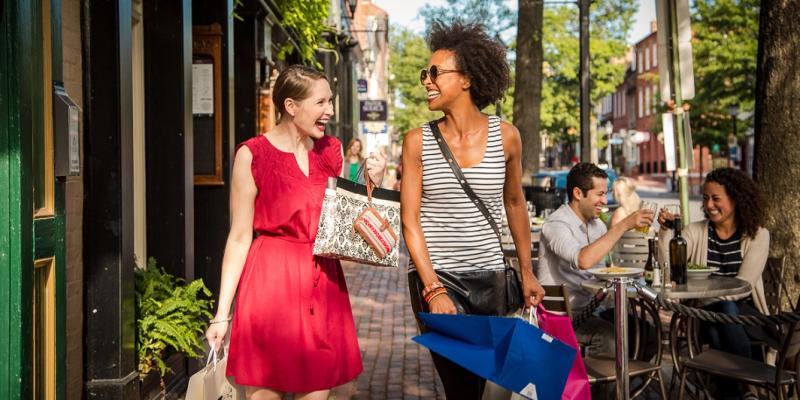 Fashionistas will love shopping at more than 100 independent boutiques in Old Town Alexandria. (Photo courtesy K Summerer for Visit Alexandria)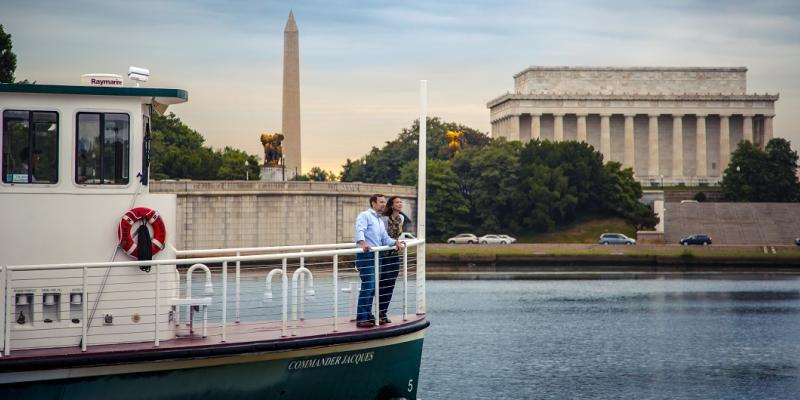 The water taxi provides convenient and scenic transportation to Washington, DC's iconic sites. (Photo courtesy K Summerer for Visit Alexandria)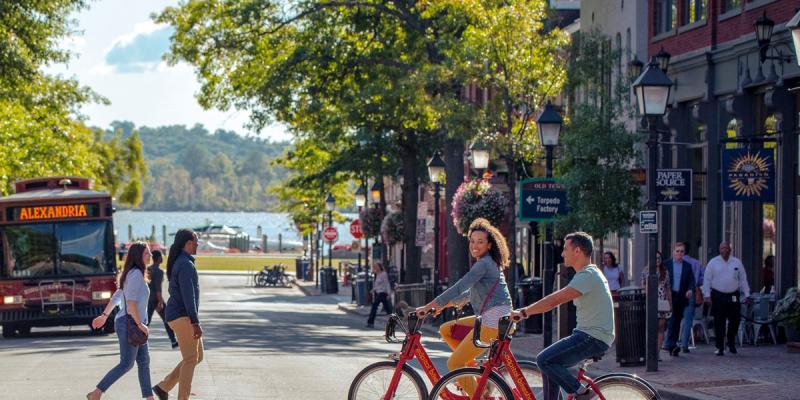 Biking on King Street (photo credit: Kristian Summerer for Visit Alexandria)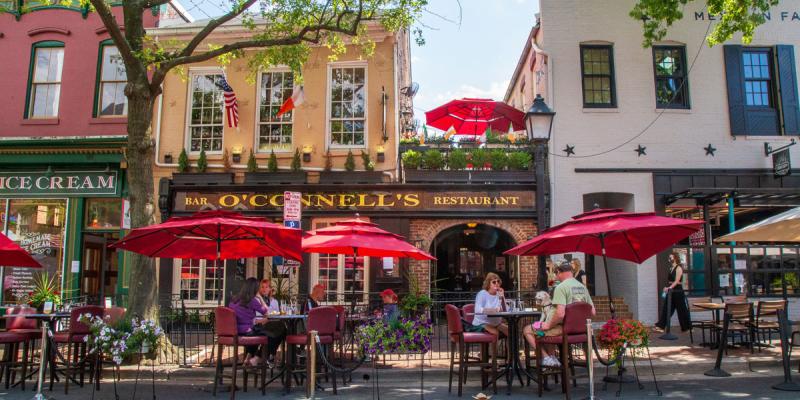 Ample outdoor dining in Alexandria (photo credit: Misha Enriquez for Visit Alexandria)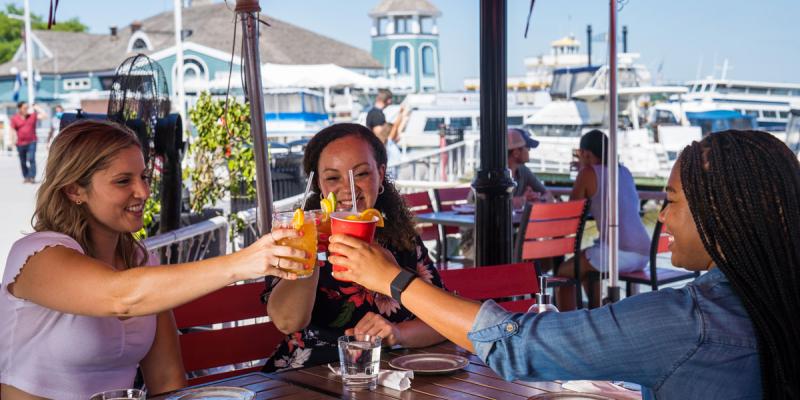 Cocktails at Vola's Dockside Grill (photo credit: Chris Cruz for Visit Alexandria)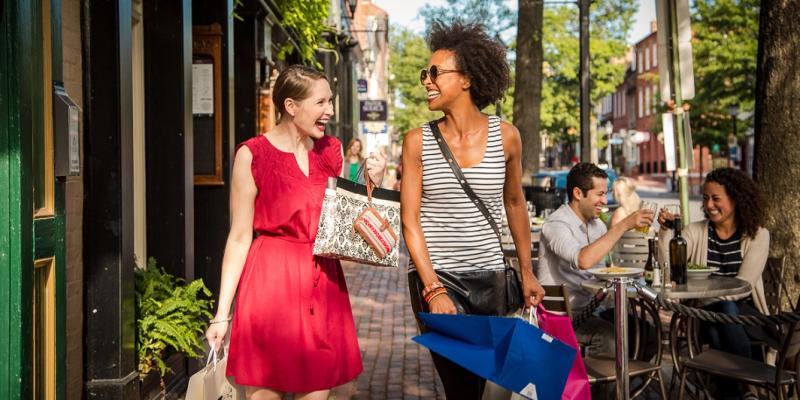 Fashionistas will love shopping at more than 100 independent boutiques in Old Town Alexandria. (Photo courtesy K Summerer for Visit Alexandria)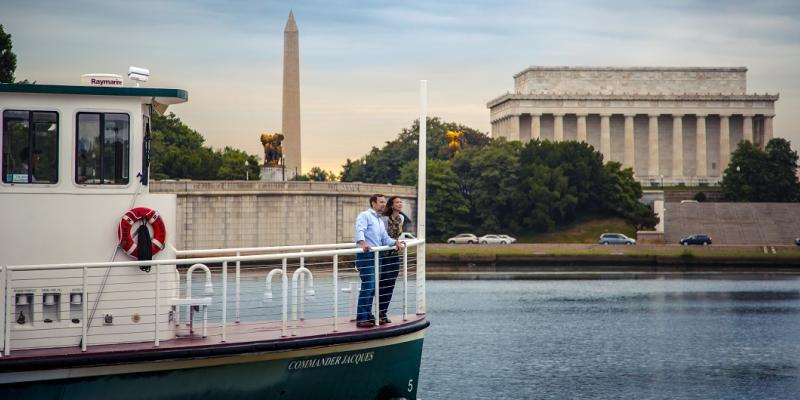 The water taxi provides convenient and scenic transportation to Washington, DC's iconic sites. (Photo courtesy K Summerer for Visit Alexandria)
Four Reasons to Make Alexandria Virginia Your Holiday Headquarters
Enjoy chef-driven restaurants, local boutiques, vibrant arts and culture, and a welcoming, walkable city just outside of Washington, DC.
Nestled on the picturesque Potomac River within eyesight of Washington, DC, the city of Alexandria, Virginia is nationally renowned for its rich history and beautifully preserved 18th- and 19th-century architecture. It provides an extraordinary backdrop for acclaimed restaurants, a thriving boutique scene, vibrant arts and culture, and a welcoming, walkable lifestyle. Delighting visitors from all over the world and recognised as one of Travel + Leisure's Best Cities in the United States 2023 and one of the top-five Best Small Cities in the US by Condé Nast Traveler for five years in a row, here are four reasons to make Alexandria the home base for your Capital Region holiday.
1. It's accessible and walkable
With scenic water taxis and five Metrorail stations, you can travel the Capital Region easily from Alexandria's central location. Whether visiting the National Mall or the Smithsonian museums; heading to National Harbor to try your luck at the casino and shop at the Tanger Outlets mall; or making a trip to Virginia's wine country for award-winning tastings, you'll discover Alexandria is perfectly located in the centre of it all. If you're renting a car, it's only a 15-minute drive to Washington, DC.
While in town, you'll find Alexandria is easy to get around. At the heart of the city's Old Town is King Street, one of the "Great Streets of America" and a walkable mile filled with boutique shopping, independent restaurants, historic attractions, a vibrant waterfront and more. At many hotels, all these amenities are just steps from your room or a short ride on the free King Street Trolley.
2. It's packed with history
A nationally designated historic district founded in 1749, Old Town Alexandria was George Washington's home town. Travel to Mount Vernon, the first president's estate, to see breathtaking landscapes and Georgian architecture — including an 18th-century distillery that still makes batches of Washington's whiskey. In Old Town, the Museums on Market Square lend a charming look at colonial life: The Carlyle House, once home to Alexandria co-founder John Carlyle, features gorgeous gardens and fascinating artefacts; Gadsby's Tavern Museum, an 18th-century hotel, provides informative tours and exhibits; and the Stabler-Leadbeater Apothecary Museum, a hidden gem in a pastel yellow building, is one of the longest-running pharmacies in the United States. Discover how Black Alexandrian changemakers have shaped history — from the US Civil War to the civil rights movement and beyond — on a self-guided tour or at the recently reopened Freedom House Museum.
For a great deal, purchase a Key to the City Attractions Pass for just $20 and gain admission to nine historic sites as well as a 40 per cent discount off admission to George Washington's Mount Vernon, a round-trip excursion on the Potomac Water Taxi by City Cruises, and a tour on Alexandria's new Tall Ship Providence. If you're looking for an offbeat glimpse of history, take the Ghost and Graveyard Tour, where you'll hear the legends and folklore of Alexandria via a lantern-light excursion. With dozens of distinctive tours to choose from, you'll be sure to find your own favourite way to explore the city.
3. Food and fun abound
Alexandria is a culinary oasis. From casual pubs and fine cuisine to top brunch spots and scenic outdoor dining, you'll have no trouble finding something to tease your taste buds. For stunning riverside views, head to Vola's Dockside Grill & Hi-Tide Lounge to enjoy seafood classics, fresh oysters and their delicious house-made salt-and-vinegar crisps. Grab a pint at Port City Brewing Company, just two miles west of Old Town, or take a food tour to get a taste of the area's historic and delicious dining scene. You can also check out the hot spots frequented by American presidents, like The Majestic and The Dairy Godmother, favourites of the Obamas.
There's fun for every type of holiday. Alexandria's cobblestone streets and scenic waterfront vistas make it the perfect romantic getaway for couples. Music fans will appreciate The Birchmere, a concert hall featuring performances from legendary musicians in bluegrass, country, folk, jazz and more. Fashionistas will love shopping at more than 100 independent boutiques in Old Town. At the end of your day, check out the Alexandria waterfront for a relaxing bike ride or boat tour along the Potomac River.
4. Road trips and scenic drives
Alexandria's central location makes it the perfect jumping-off point to explore the greater Capital Region. Take a scenic drive to Virginia wine country, including regions in the northern part of the state or the Shenandoah Valley, where you can tour more than 40 award-winning wineries and wine tasting rooms, 30-plus craft breweries, and a handful of cideries and distilleries. Or, steer toward Shenandoah National Park, where Skyline Drive will take you through the Blue Ridge Mountains along one of the most beautiful routes in the US. Go underground nearby at Luray Caverns for a look at the largest and most popular caverns in the area, boasting expansive rooms with ceilings as high as 10 storeys.
Surrounding coastal locales offer side-trip destinations replete with fresh seafood and water activities. The Tidewater region in Virginia is known for oysters, and is part of the statewide Virginia Oyster Trail. For an unforgettable experience, Pleasure House Oysters offers boat-based farm and tasting tours along the Lynnhaven River.
For more inspirational travel ideas, check out the Ultimate American Road Trip and Birthplace of American Cuisine itineraries, which highlight the best of Alexandria and more.