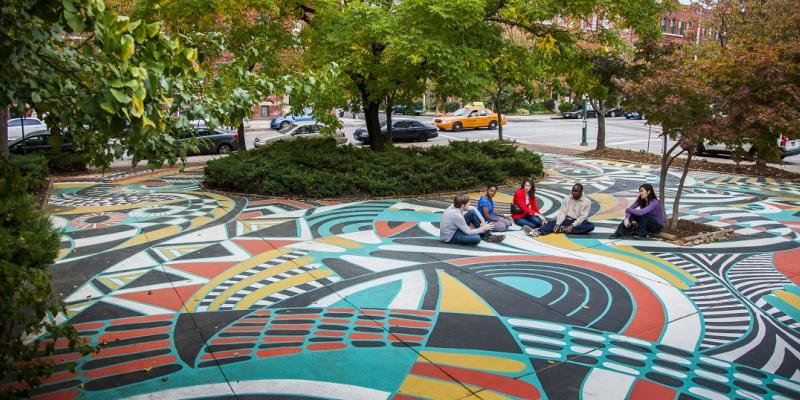 Mural by artists Jessie Unterhalter & Katey Truhn in Baltimore, Maryland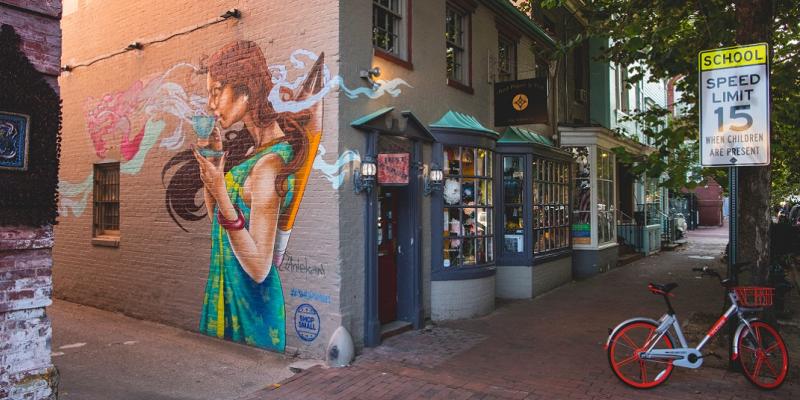 Mural in the Georgetown neighbourhood of Washington, DC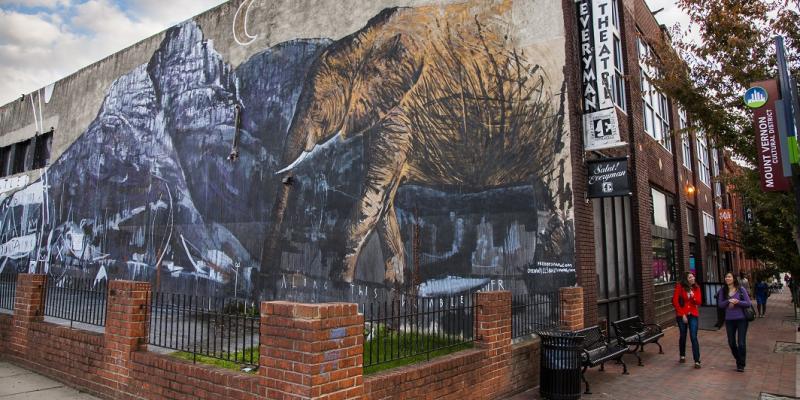 Mural by Freddy Sam in Baltimore, Maryland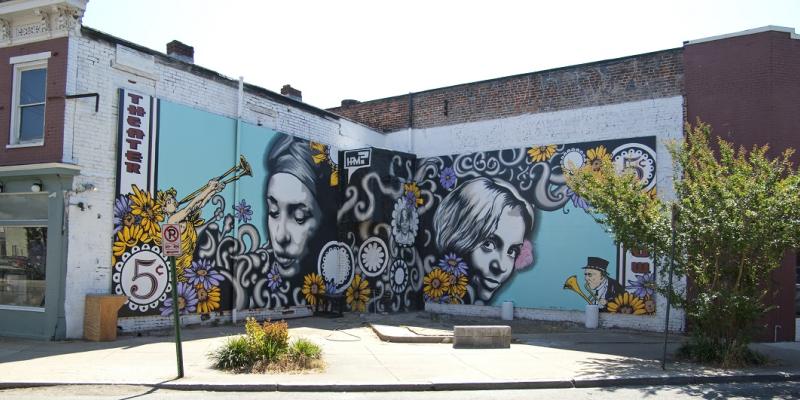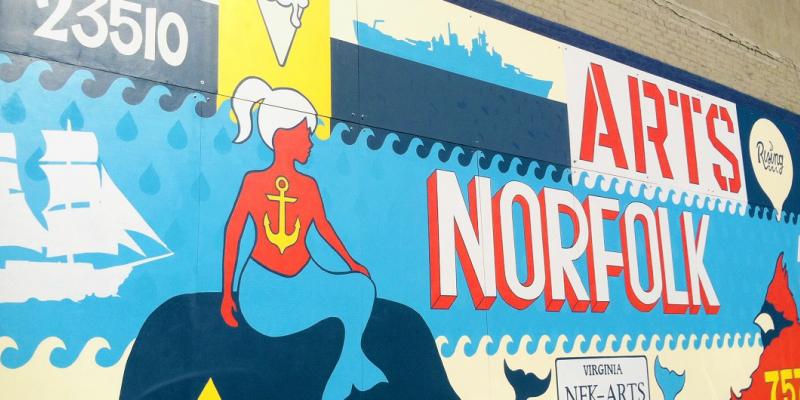 Norfolk, Virginia's NEON arts district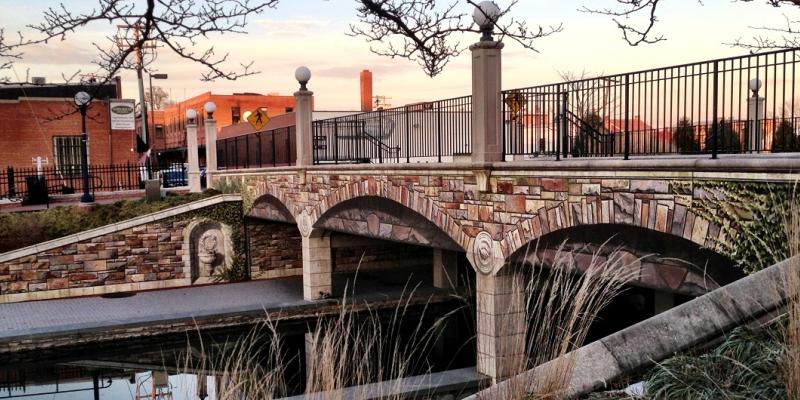 Community Mural Art Bridge in Frederick, Maryland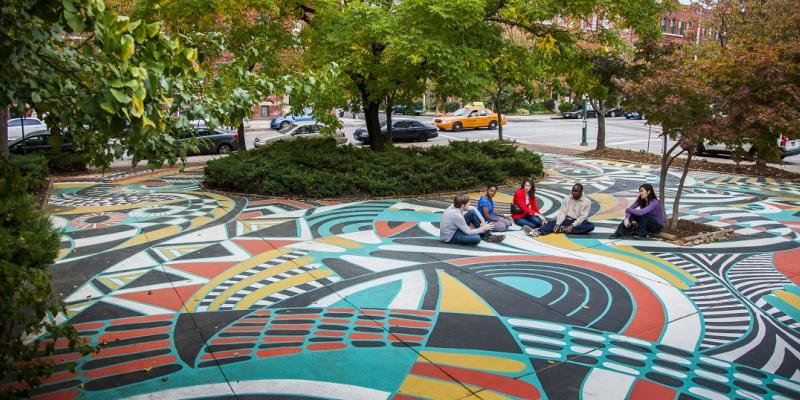 Mural by artists Jessie Unterhalter & Katey Truhn in Baltimore, Maryland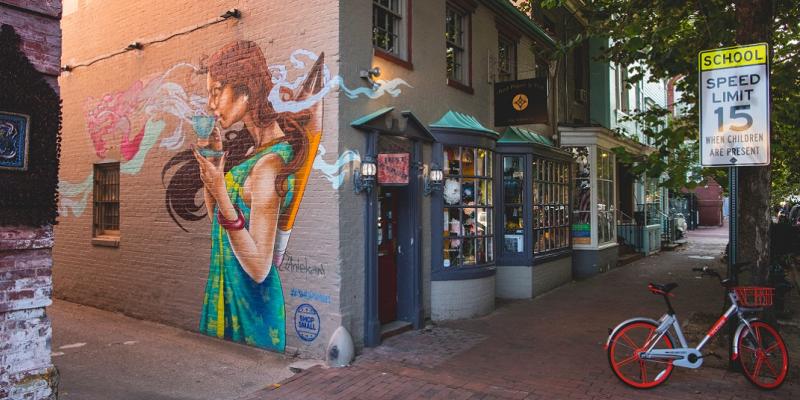 Mural in the Georgetown neighbourhood of Washington, DC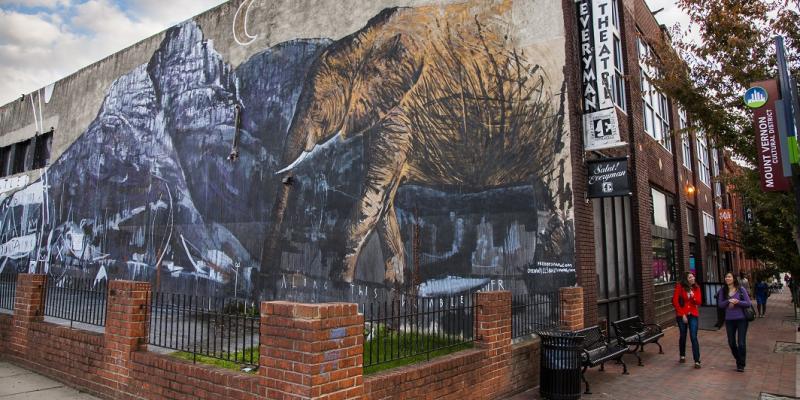 Mural by Freddy Sam in Baltimore, Maryland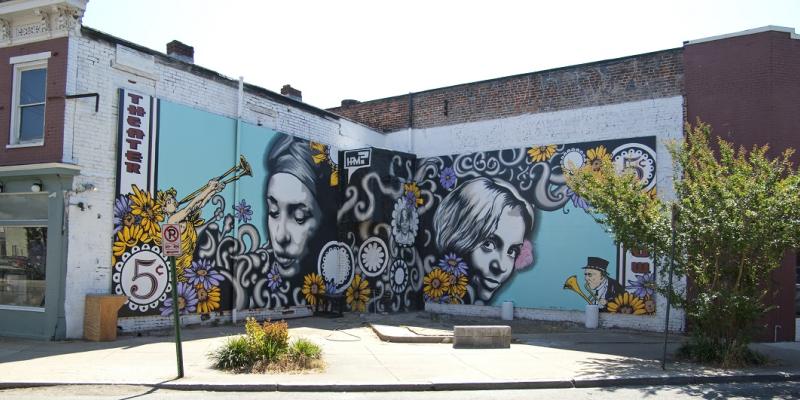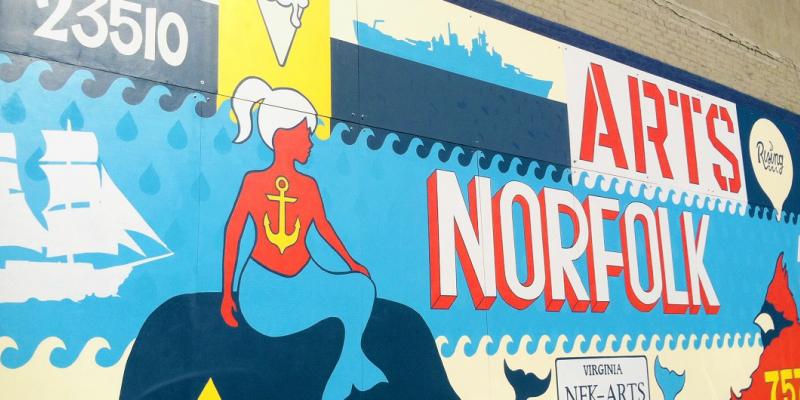 Norfolk, Virginia's NEON arts district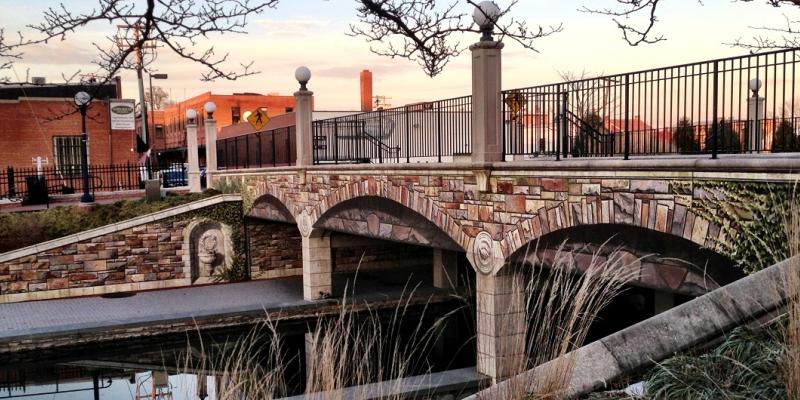 Community Mural Art Bridge in Frederick, Maryland
Best Street Art and Murals in the Capital Region
Murals in Virginia, Maryland and Washington, DC, have transformed public spaces into outdoor art galleries.
Local, national and global artists use buildings throughout the Capital Region as their canvas to create murals depicting everything from social and political statements to abstract art and more traditional graffiti-inspired street art. Take a tour of the region's public art for an in-depth experience of American history and culture.
Murals in Washington, DC
While the mural movement came to Washington, DC at the end of the 1960s and early 1970s, street art still thrives in the nation's capital. 
U Street: Dive into a neighbourhood rich in African American history and culture through its street art. Many U Street murals pay homage to Black Americans who played pivotal roles in local and national history and culture — from the owners of one of the oldest Black-owned businesses in DC to trailblazers like Harriet Tubman and President Barack Obama. 
DC Alley Museum: Tucked in the Shaw neighbourhood's Blagden Alley is a gallery of public art waiting to be explored … and Instagrammed. Discover garage doors painted with striking rainbow letters championing love, walk along walls lined with human-sized root vegetables and take in sombre political messages.
Georgetown: This DC neighbourhood is known for its lively charm, and its street art scene lives up to this reputation. As you stroll the cobblestones of Georgetown, look for vibrant art on building facades, such as trompe-l'œil illusions so convincingly realistic you'll do a double-take and historical bas-relief murals flanked by tendrils of ivy.
Adams Morgan: Popular for its global cuisine offerings, Adams Morgan also lays claim to a number of DC murals. Look for bursts of colour in public art celebrating the community, unique interpretations of the complexity of love and blue-skied vineyard scenes as you explore local boutiques and restaurants.
See street artists in action around the city at D.C. Walls — an annual international mural festival.
Public Art in Virginia
From guided tours to cycling routes you can take at your own pace, you'll find plenty of ways to explore public art in Virginia. 
Richmond: Brilliant splashes of colour and fine lines bring life to 100-plus canvases, thanks in part to the Richmond Mural Project: a five-year undertaking that brought top mural artists from around the world. Take a guided Street Art Segway Tour with RVA on Wheels or connect with Would I Lie to You? for mural walks that take a deeper dive into the public art in specific neighbourhoods.
Norfolk: More than 100 works of public art adorn walls and street corners in the tidewater town of Norfolk. Explore interactive pieces — like a swing set that waters a garden or the colourfully tumbling glass of a massive kaleidoscope — on a self-guided Public Art Tour. Make it a point to explore the thriving NEON District, which is home to some of the most stunning street art in Norfolk. 
Roanoke: Nestled in the heart of Virginia's Shenandoah Valley and the Blue Ridge Mountains, Roanoke is known for its art scene as much as for its outdoor recreation. Experience both with the Art by Bike tour: This 8.5-mile (13.7-km) cycling route guides you to some of the city's most interesting pieces of public art, including murals and sculptures.
Waynesboro: This starting point for the famously scenic Skyline Drive hosts the annual Virginia Street Arts Festival, in which artists express themselves on donated walls throughout the city. During the festival itself, enjoy public art walking tours, micro-exhibits and an array of entertainment. Year-round, explore myriad murals throughout town and appreciate the fine art of Virginia craft brewing with a draught from one of many local taphouses.
Maryland Street Art
The history and diverse cultures of Maryland merge to create numerous opportunities for experiencing street arts, interactive public works and more. 
Baltimore: You'll find art everywhere you look in Baltimore, from winter salt boxes to area parks — like harbourside Pierce's Park, with interactive musical fences, educational footpaths and tunnels made from arching boughs. Look, too, for buildings bedecked in murals touching on every theme and style of painting imaginable, including the works of internationally known Baltimore muralist Gaia. Take an artist-led Station North Arts District street art tour for an in-depth experience.
Frederick: When in Frederick, make it a point to see the famous Community Bridge mural in Carroll Creek park. Among the park's tranquil creekside walkways, and blooming water lilies, is an extraordinary bridge. Local artist William Cochran and a team of volunteers created a trompe-l'œil illusion by painting thousands of stones, ivy leaves, statues and architectural details. The end result is an enchanting masterpiece that will capture the eye — and imagination — for hours.
Chesapeake Mural Trail in Dorchester County: Maryland's Eastern Shore is dotted with charming small towns rich with history and culture: See for yourself as the story unfolds via the area's mural trail along the Chesapeake Country scenic byway. The moving murals take you through the past with depictions of Native Americans and Freedom Fighters like Harriet Tubman, while also showcasing the importance of the Chesapeake Bay to inhabitants over the centuries. 
Annapolis: The capital city of Maryland, Annapolis is best known for its sailing history and being home to the US Navy. In recent years, the city has also been gaining recognition for its street art scene, particularly those touching on politics and calling for social change. You'll find large-scale tributes to political figures like Supreme Court Justices Ruth Bader Ginsberg and Thurgood Marshall, along with depictions that honour the lives of Black Americans, promote Mexican heritage and more.