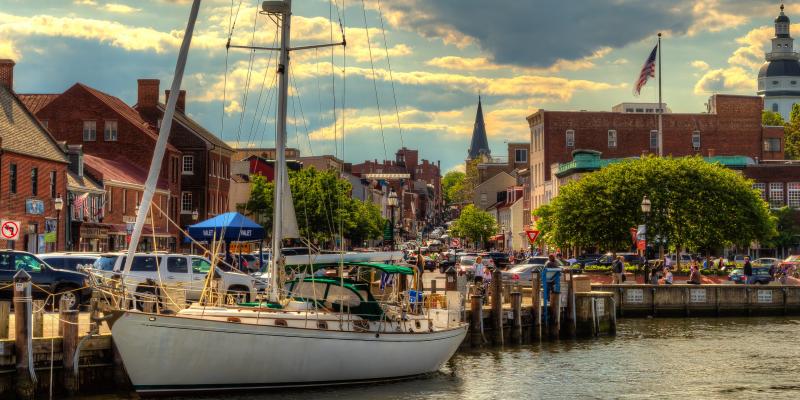 Sunrise over Annapolis, Maryland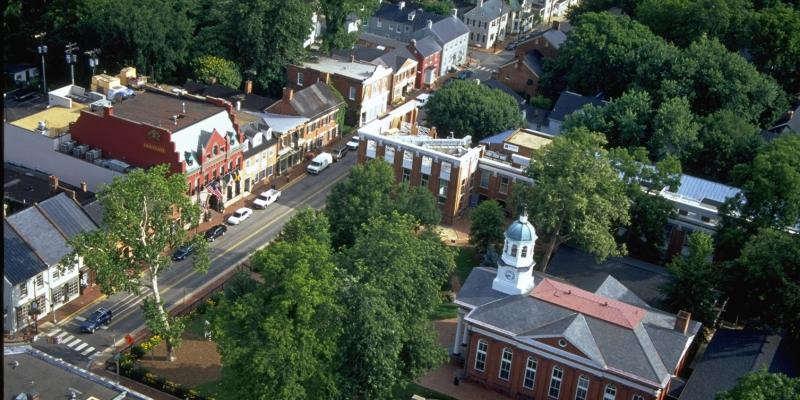 Historic downtown district of Leesburg, Virginia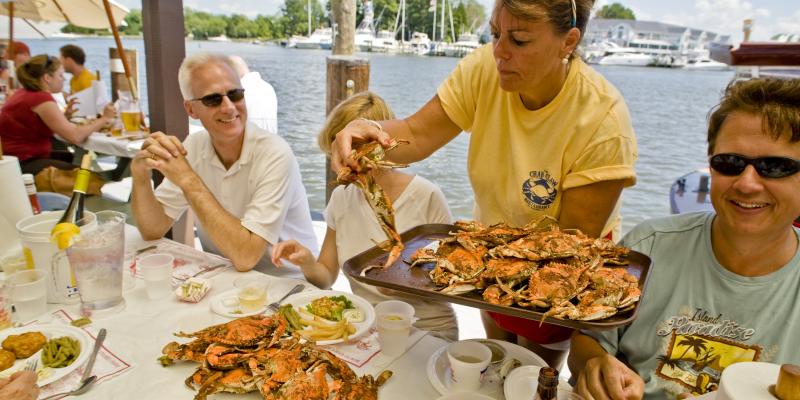 The Crab Claw Restaurant in St. Michaels, Maryland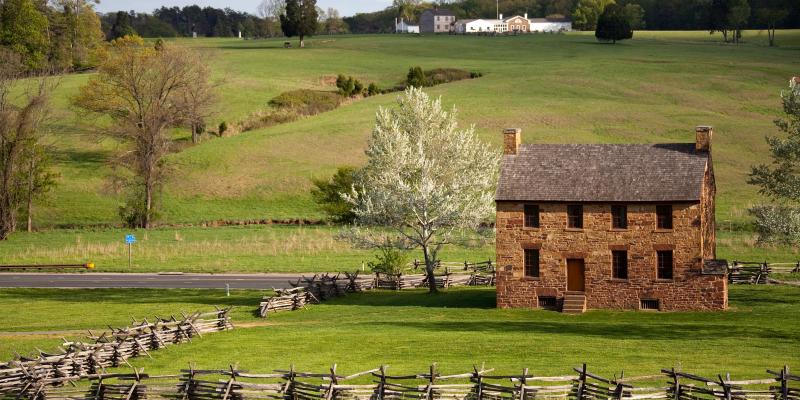 Manassas National Battlefield Park in Virginia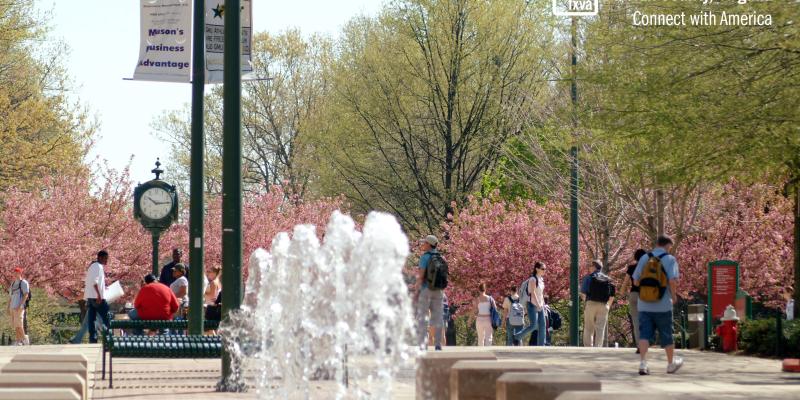 George Mason University in Fairfax, Virginia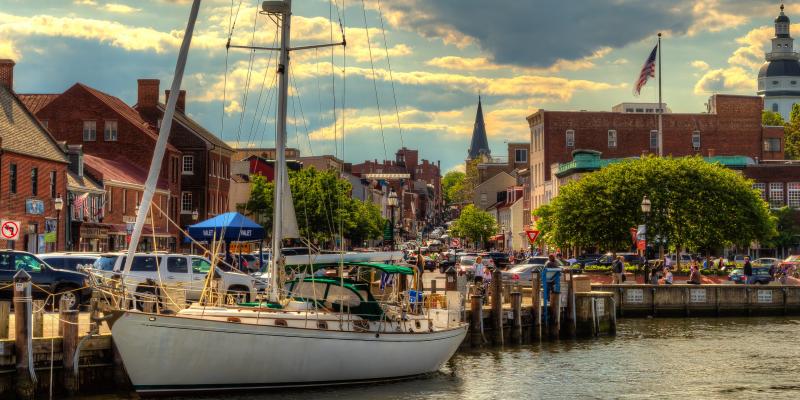 Sunrise over Annapolis, Maryland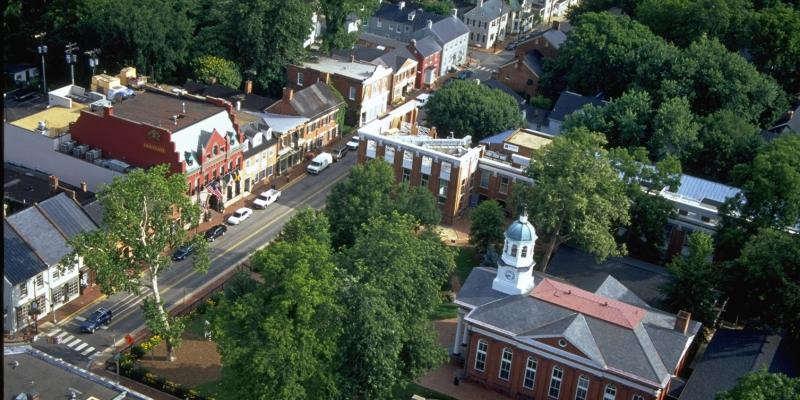 Historic downtown district of Leesburg, Virginia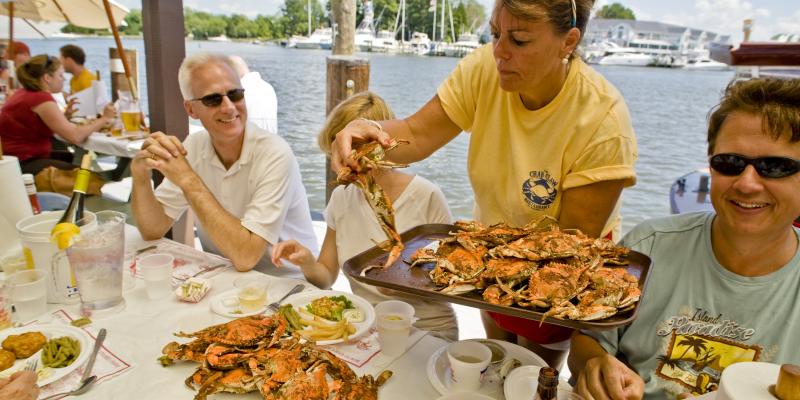 The Crab Claw Restaurant in St. Michaels, Maryland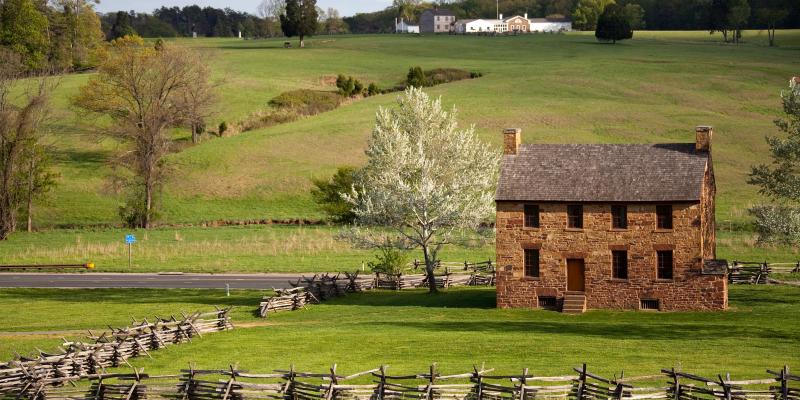 Manassas National Battlefield Park in Virginia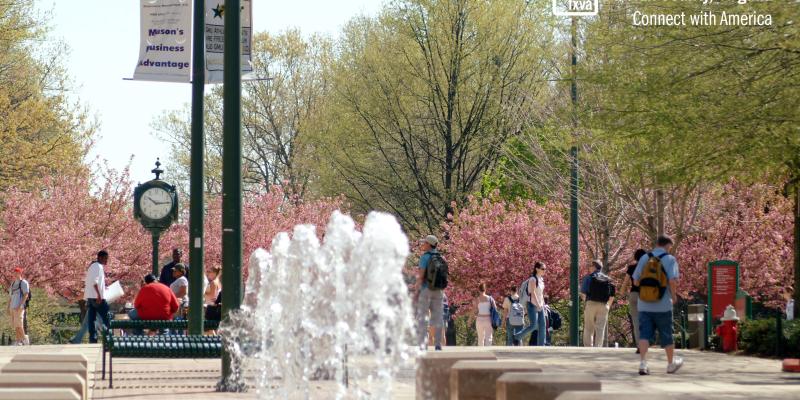 George Mason University in Fairfax, Virginia
Day Trips from Washington, DC
Pick your pleasure — eating crabs at the water's edge, shopping in fashionable boutiques or touring historic battlegrounds. These fascinating cities and charming towns make terrific (and easy) day trips from DC.
VIRGINIA
Fairfax
Located just 30 minutes from DC, Fairfax combines the charm of a small town with the excitement of an urban city. Its thriving arts community is supported by George Mason University, with a popular performance series held at the Old Town Hall. Many of Fairfax's important sites are located near its historic Old Town, including the Fairfax County Courthouse and Fairfax Museum and Visitor Center.
Distance to DC: 20 miles, 32 km
Manassas
Get a hands-on lesson in American Civil War history in Manassas, located south west of Washington, DC. Walk the trails of the actual site of the Battles of Bull Run and hear war stories at Manassas National Battlefield Park. Afterwards, stroll the charming Old Town historic district and drop into family-run shops, galleries, restaurants and breweries.
Distance to DC: 32 miles, 52 km
Leesburg
This scenic small town, just one-hour northwest of DC, is a must-stop in The Journey Through Hallowed Ground National Heritage Area. Learn about Leesburg's role in the American Civil War at the Loudoun Museum and see the preserved Marshall House, home of General George C. Marshall, architect of the Marshall Plan to rebuild Europe after World War II. Don't miss browsing the downtown shops and restaurants nestled in historic storefronts.
Distance to DC: 41 miles, 66 km
MARYLAND
Annapolis
Annapolis, the state capital of Maryland, sits on the Severn River and is known for its waterfront fun, particularly sailing. Tour the esteemed US Naval Academy campus and Annapolis Maritime Museum. Take a walk through the 45-block historic district that's home to more 18th-century buildings than anywhere else in the US. And be sure to shop Main Street and dine on fresh-caught seafood.
Distance to DC: 31 miles, 50 km
Leonardtown
Waterside Leonardtown was established as a bustling port and steamboat landing in the early 1900s. Today, Leonardtown Wharf Park is a tourist spot, with a lovely promenade along the waterfront where visitors can rent a kayak or canoe to paddle Breton Bay. Try a glass of wine at the Port of Leonardtown Winery, and spend time shopping and dining in the town square.
Distance to DC: 55 miles, 89 km
St. Michaels
This picturesque seaside town on Maryland's famed Eastern Shore is worth the 90-minute drive from DC. Explore the 18-acre waterfront Chesapeake Bay Maritime Museum and take a boat ride. Admire the rows of colourful Victorian-era homes. Shop the unique boutiques and galleries on Talbot Street, stop for a wine tasting and sample Maryland blue crab at one of St. Michaels' award-winning restaurants.
Distance to DC: 80 miles, 128 km