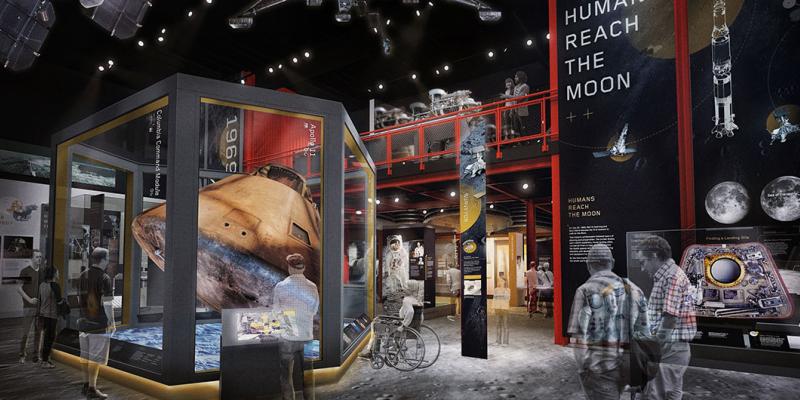 Rendering of the upcoming Destination Moon gallery, opening in 2022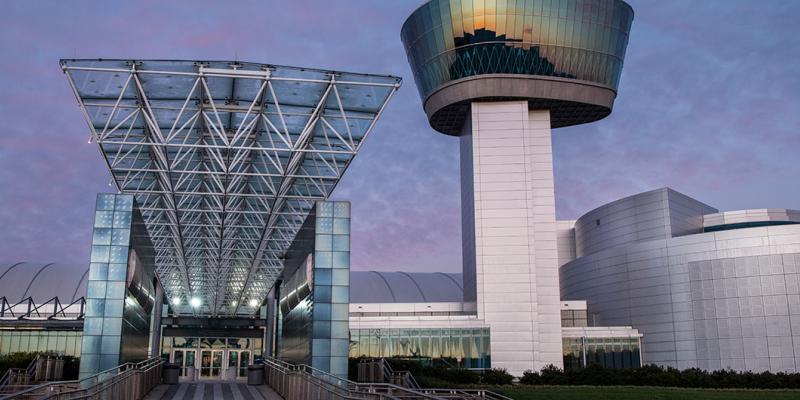 Steven F. Udvar-Hazy Center in Virginia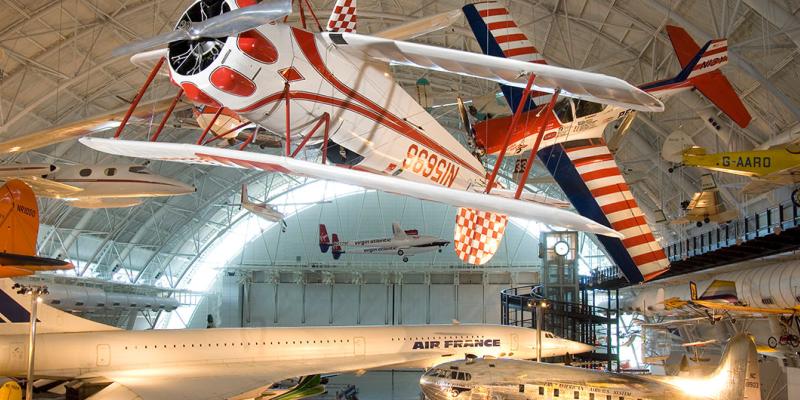 The Boeing Aviation Hangar at the Udvar-Hazy Center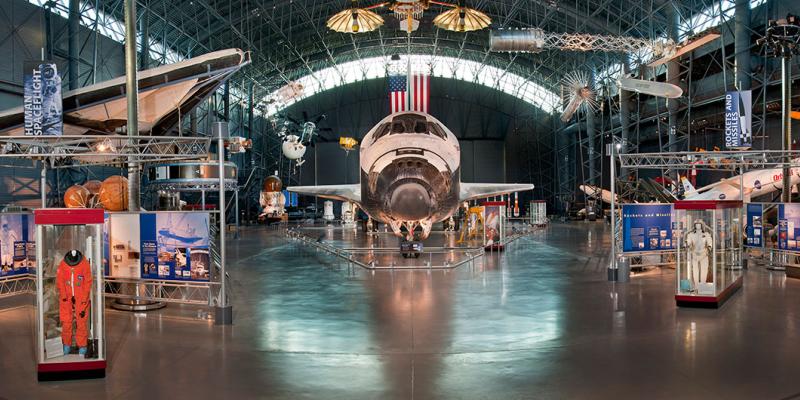 Space Shuttle Discovery in the James S. McDonnell Space Hangar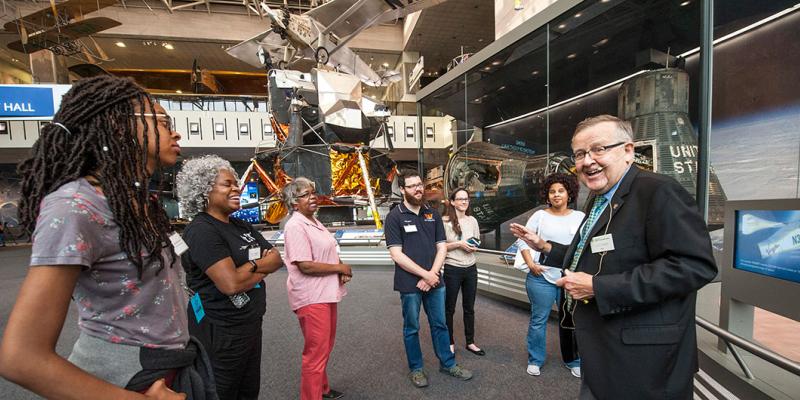 A tour of the National Mall building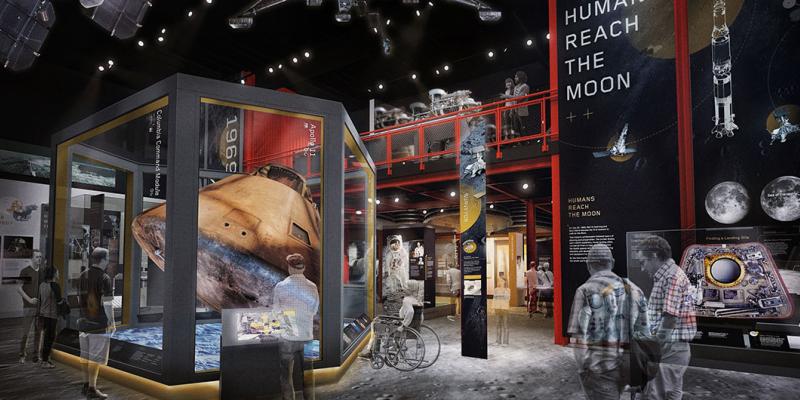 Rendering of the upcoming Destination Moon gallery, opening in 2022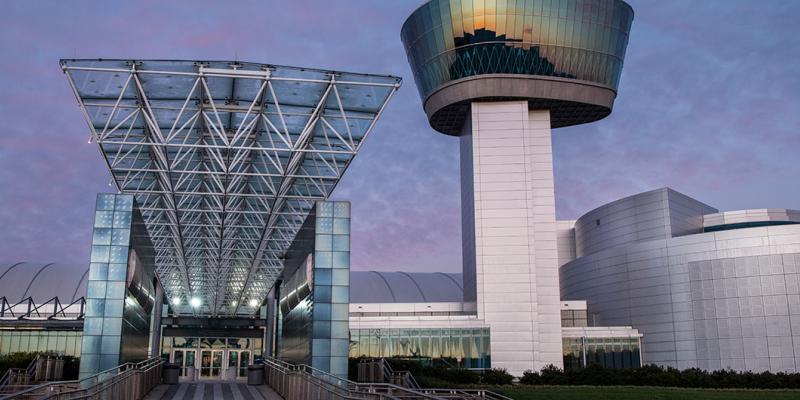 Steven F. Udvar-Hazy Center in Virginia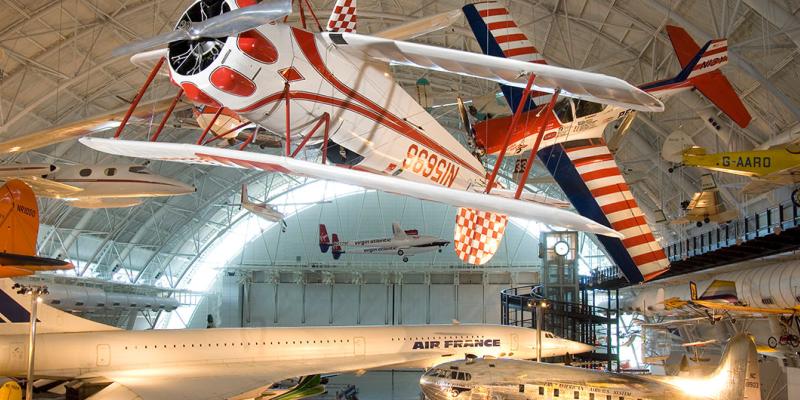 The Boeing Aviation Hangar at the Udvar-Hazy Center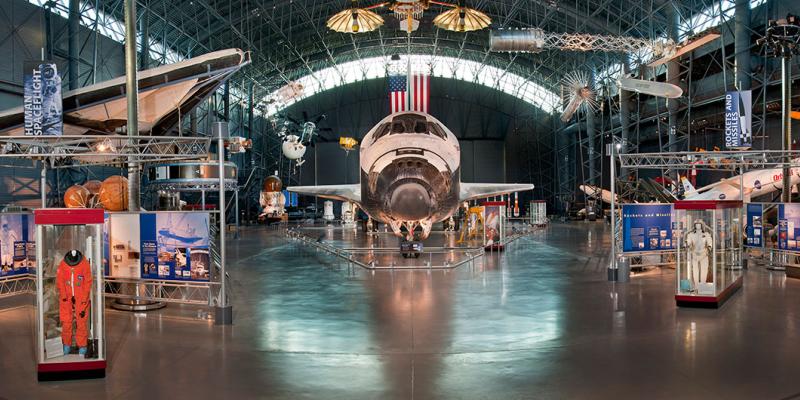 Space Shuttle Discovery in the James S. McDonnell Space Hangar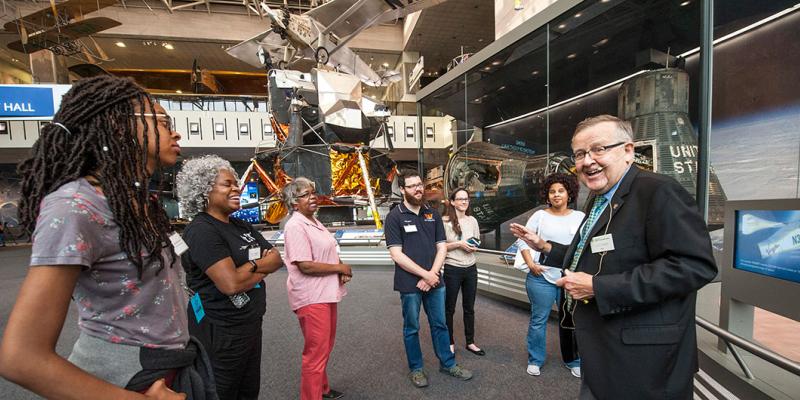 A tour of the National Mall building
Visit the Smithsonian's National Air and Space Museum
With one of the largest collections of aviation and space artefacts in the world, the museum welcomes millions of visitors each year, sharing the story of human flight and exploration, from 18th-century ballooning to the latest images from the James Webb Space Telescope.
Here's what you have to look forward to at this wonder-filled attraction.
8 Incredible New Galleries
The National Air and Space Museum in Washington, DC is currently in the process of making the biggest transformation in its history with a large-scale, multi-year renovation that will introduce new galleries and public spaces. As of August 2023, eight of the new galleries are on view, along with a renovated planetarium, shop and new café. The rest of the galleries and the museum's IMAX Theater will open in the coming years.
Open galleries:
Along with these galleries, the museum is sharing new stories about the collection and individuals who have contributed to the achievements in aviation and space exploration.  Favourite artefacts on view include the 1903 Wright Flyer, Neil Armstrong's Apollo 11 spacesuit and the T-38 Talon flown by Jacqueline Cochran to set eight world records for speed, altitude and distance.
Admission is free, but you'll need to reserve a timed-entry pass on the museum's website. Additional passes become available every morning at 8:30am.
Space Shuttles, Memorabilia & More
The museum's Steven F. Udvar-Hazy Center is a must for aviation and space fans. Located on Washington Dulles International Airport's property in Chantilly, Virginia, the museum is a 10-minute drive from the airport and a 25-minute bus ride via the Fairfax Connector bus. It's perfect for Dulles passengers as a first stop, last stop or something to do during a long layover.
The Udvar-Hazy Center opened in December 2003 in conjunction with the 100th anniversary of Wilbur and Orville Wright's first flights. The exhibition space is made up of two very large hangars. In the Boeing Aviation Hangar, you'll find nearly 200 aircraft, along with engines, uniforms, medals, models and memorabilia. Popular aircraft on display include an Air France Concorde, a World War I-era Sopwith Camel, an SR-71 Blackbird and Junkers Ju 52 Tante Ju.
Then step into the James S. McDonnell Space Hangar and prepare to be amazed. The first thing you'll see is Space Shuttle Discovery, which flew more missions than any other space shuttle. Discovery is flanked by spacecraft and artefacts from the Mercury, Gemini and Apollo missions on one side and a collection of missiles and rockets on the other. Other artefacts include cameras, space-science instruments, a spacesuit and gloves, and pop-culture objects that inspired our desire to venture into space.
Admission to the Udvar-Hazy Center is also free and advance reservations are not necessary. There is a $15 parking fee for vehicles entering before 4pm.
Things to Do at the Smithsonian's National Air and Space Museum
Hear amazing stories.
Every artefact on display has a story and the Smithsonian's National Air and Space Museum's guides are the best resource to hear about them. Free guided tours are offered daily at the Udvar-Hazy Center. Both locations boast spotlight stations in various locations, staffed by guides who can tell you about the artefacts you'll see.

Learn from the museum's education team.
The museum's astronomy education team has several recurring activities, including daytime solar observations through sun-safe telescopes and a monthly stargazing night at the Udvar-Hazy Center. Both locations also have Discovery Stations, where staff and volunteers present science-based demonstrations on a number of topics. Check the National Air and Space Museum's events calendar to learn what's on during your holiday.  
 
Watch a planetarium show or IMAX film.
The museum in Washington, DC has a newly renovated planetarium. Two different shows run throughout the day, alternating every half hour. This is the perfect companion to the new Exploring the Planets Gallery.

If you're at the Steven F. Udvar-Hazy Center, you can watch documentary-style films that complement the museum's collection on a six-storey screen throughout the day. Hollywood films are often shown in the evenings. Note: Fees apply.
 

See planes in action and test your own piloting skills.
The Udvar-Hazy Center has a 51-metre-high observation tower that offers a stunning 360-degree view — you'll even see some of Dulles Airport's runways. Watch as planes take off and land at the airport while listening to a live feed from one of the air-traffic control channels.

The Udvar-Hazy Center also has flight simulators. See if you have what it takes to be a fighter pilot or walk through space in the virtual reality experience. Note: Fees apply.
 

Check out some of the museum's conservation projects.
The Mary Baker Engen Restoration Hangar has a glass overlook to allow visitors to see more than a dozen different projects underway by their specialists.
 
Grab a bite.
The Mars Café at the museum in Washington, DC offers coffee and espresso, teas, sandwiches, panini, salads and pastries.

The Udvar-Hazy Center's Shake Shack serves up hamburgers, chicken strips, chips, sodas, ice cream and, of course, milkshakes. There is also a self-serve, grab-and-go case with salads, sandwiches, wraps and other snacks.
What To Know Before Visiting the Smithsonian's National Air and Space Museum
Admission is free for both locations. Free, timed-entry passes are required for the museum in Washington, DC. They are not required at the Udvar-Hazy Center.
Both locations are open daily from 10:00am to 5:30pm. They are closed on December 25. Each location has a security station at its entrance. 
Both locations are popular DC-area attractions, with peak season between March and August.
Photos and social media sharing are welcome. But leave the selfie sticks, monopods and tripods in your hotel. Other prohibited items include guns, knives and pets (with the exception of service dogs). These items not permitted in any of the Smithsonian museums.
Outside food and drinks are not allowed with the exception of water. Both locations have water-bottle-filling stations.
Parking is not available at the museum in Washington, DC. There are parking garages around the city. Street parking is available, but be sure to check the signs, as some spaces have limited hours or require you to pay a parking metre.
There is ample parking at the Udvar-Hazy Center. Parking is $15 per car and is free for vehicles entering the grounds after 4pm. Your parking pass is valid for the full day. If you choose to leave and then return, ask for a receipt before exiting the lot so you don't have to pay the fee again.
Need more information?
Learn more about the Smithsonian's National Air and Space Museum.