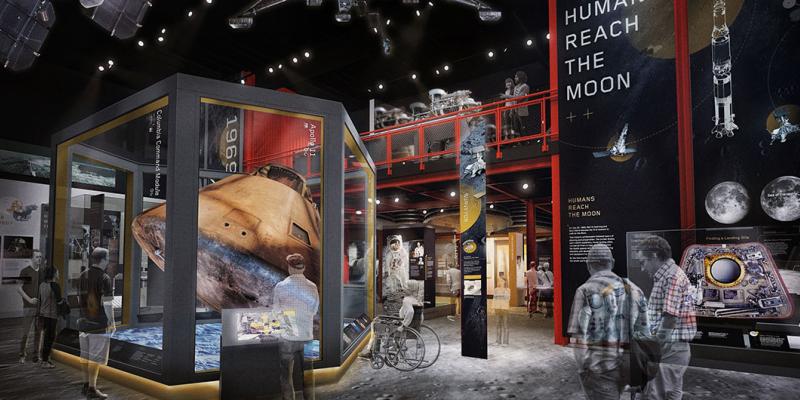 Rendering of the upcoming Destination Moon gallery, opening in 2022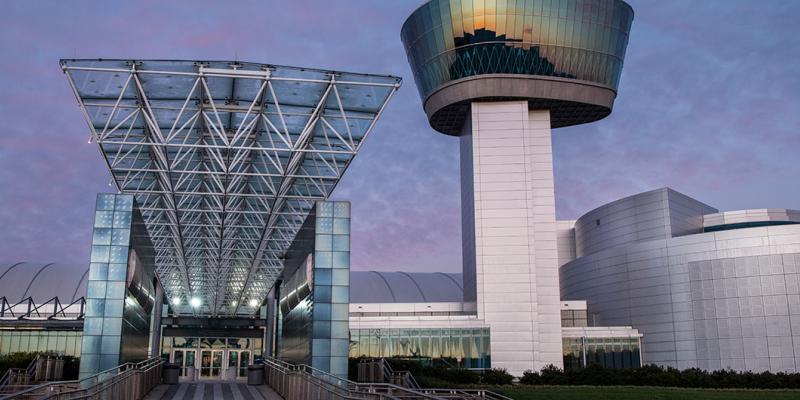 Steven F. Udvar-Hazy Center in Virginia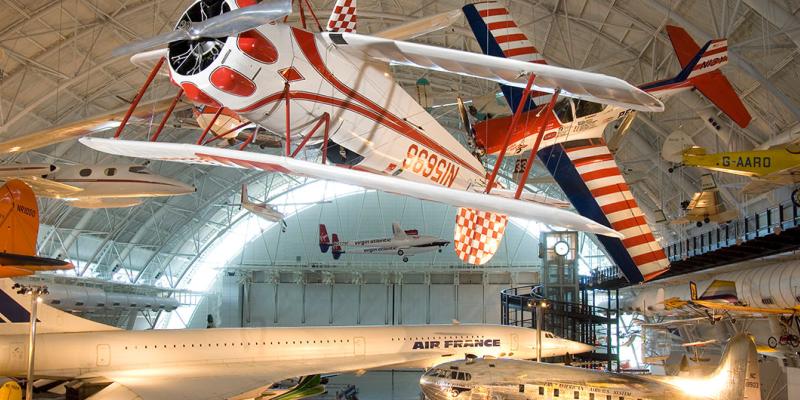 The Boeing Aviation Hangar at the Udvar-Hazy Center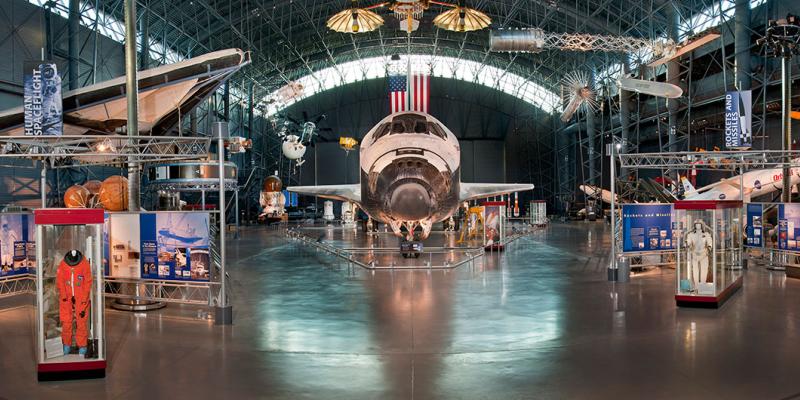 Space Shuttle Discovery in the James S. McDonnell Space Hangar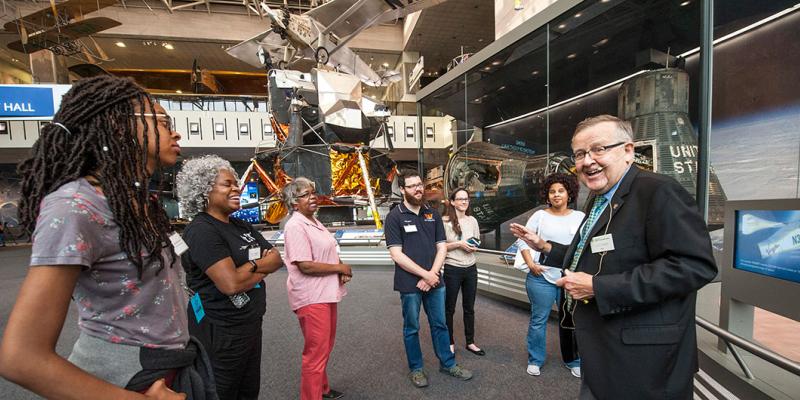 A tour of the National Mall building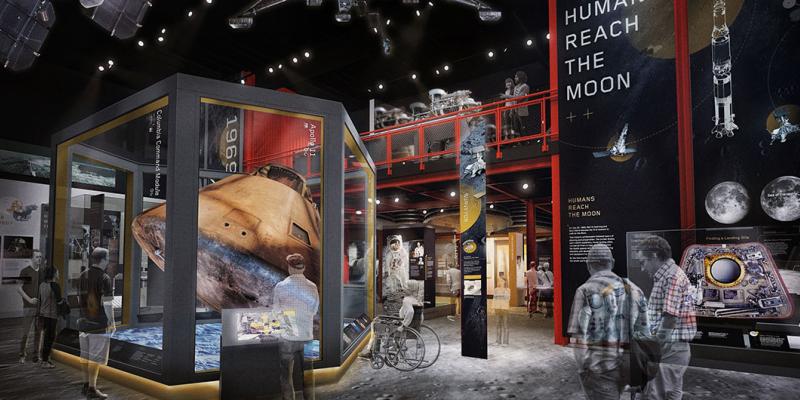 Rendering of the upcoming Destination Moon gallery, opening in 2022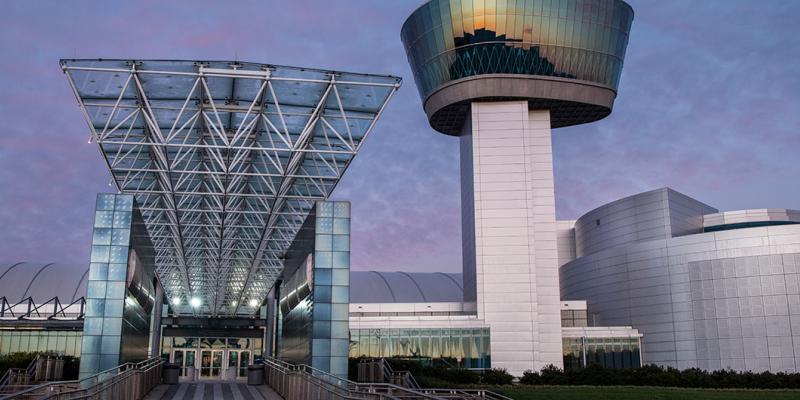 Steven F. Udvar-Hazy Center in Virginia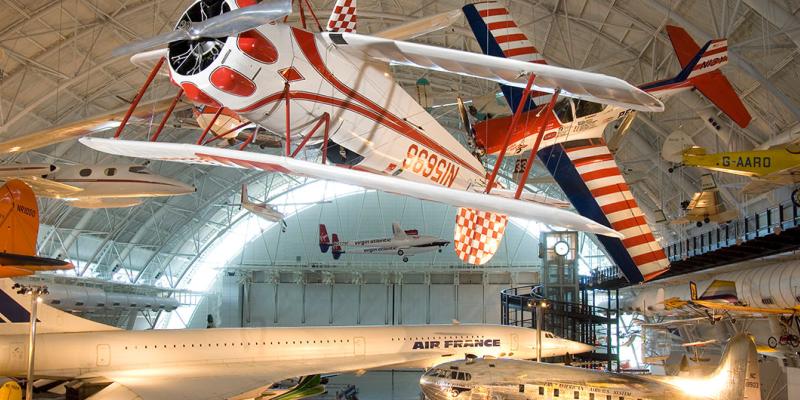 The Boeing Aviation Hangar at the Udvar-Hazy Center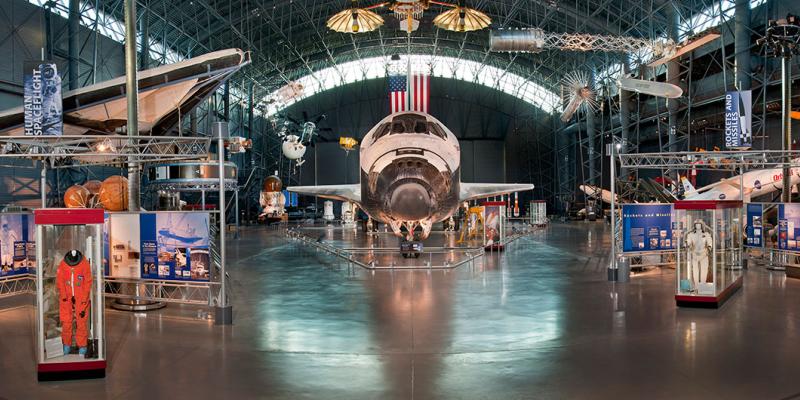 Space Shuttle Discovery in the James S. McDonnell Space Hangar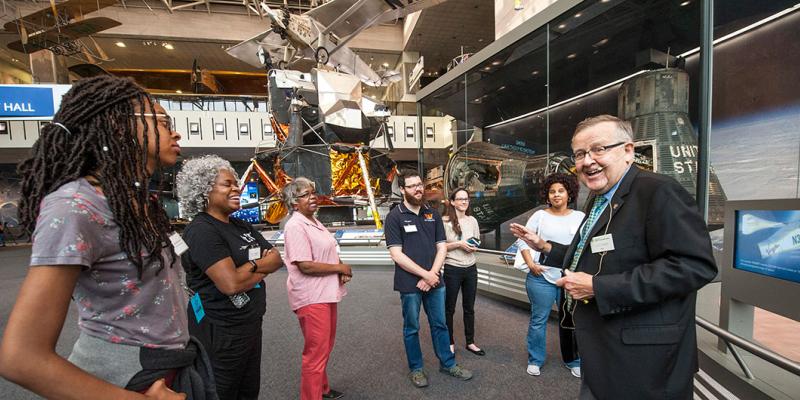 A tour of the National Mall building
5 Things to Know Before Visiting the National Air and Space Museum in DC
As the largest collection of aviation and space artefacts in the world, the National Air and Space Museum welcomes more than eight million visitors a year and is the biggest of the Smithsonian museums. Currently there is a 7-year renovation underway on the National Mall to transform all of the exhibitions and revitalise the exterior and infrastructure. However, the construction shouldn't stop you from seeing what astronauts eat in space or the thrill of an in-flight experience.
Here are some key things to know before you set out for this wonder-filled attraction.
1. Big Changes Are in the Air — But There's Still Plenty to See
In order to keep up with the ever-changing and evolving air and space travel we humans participate in, the building in Washington, DC is being radically transformed. All 23 exhibitions and presentation spaces will be updated, with the first of the new galleries reopening in 2022. But don't get your parachute bunched up — the museum remains open and galleries will close in phases. During the first few years of renovation, popular artefacts such as the Spirit of St. Louis, the Apollo Lunar Module and Skylab will still be on display.
Ultimately, the re-imagined venue will revolutionise how you engage with and experience the fascinating history and future of air and space.
2. One Museum, Two Locations
The under-construction building on the National Mall is the flagship location, which opened in 1976. In addition to exhibits, it's home to the Lockheed Martin IMAX Theater and also offers flight simulator and virtual reality experiences (fees apply).
The second location, which will be completely open during the flagship's construction, is the Steven F. Udvar-Hazy Center on Washington Dulles International Airport's property in Chantilly, Virginia. Opened in 2003, it's just over 5 miles from the airport which makes for a great stop if you're travelling via IAD. Bus service is available — check Fairfax Connector route and schedule information online before you set off to explore.
Once you arrive, you'll find two large connecting hangars where the air- and spacecraft are displayed. Check out the only remaining Sopwith Camel and the world's largest collection of German and Japanese World War II aircraft — many of which are the last of their kind. You'll also want to see Space Shuttle Discovery and a Lockheed SR-71 Blackbird before you head into the Airbus IMAX Theater for a showing of "D-Day: Normandy 1944 3D" or "Journey to Space 3D"(fees apply). Both facilities have free admission, although parking is $15 per car at the Udvar-Hazy Center, but free for visitors entering after 4 p.m.
3. Top-Notch Exhibits Will Expand Your Horizons
With roughly 60,000 objects, the collection has everything air and space related, from engines and medals to trophies, instruments, artwork, uniforms and the actual aircraft people have piloted. Exhibition gallery topics range from the history of astronomy to the aerial age and the Apollo space programme.
There are opportunities to experience programmes, education activities and performances at both locations, such as star-viewing parties. Whilst Martians might not be real, learn about the fourth planet from the sun at the new "Mars Experience," which recently debuted at the Udvar-Hazy Center. It's a school bus outfitted with audio and visual technology that creates an interactive experience to virtually transport visitors to the Red Planet. On weekends you can voyage for free!
4. Tours, Simulators and Discovery Stations Enhance the Experience
Not sure where to start your journey through the sky? Take a free, docent-led tour (offered daily at 10:30 a.m. and 1 p.m.). These knowledgeable volunteers include former NASA employees — yes, you read that right: think pilots, engineers and historians. Each tour is unique, and you will see the passion that all of the docents have for the collection and the topics the artefacts represent. If you prefer solo discovery, rent a self-guided audio tour for $7 in English, French, Mandarin or Spanish.
Don't miss taking a ride on a motion-based virtual-reality space adventure, capsule ride simulator or interactive flight simulator (fees apply). Stop by a Discovery Station for informal learning opportunities covering the history of air transportation, what it's like living and working in space or the tools of astronomy. Other fun-filled stops include the Phoebe Waterman Haas Public Observatory at the museum in Washington, DC, where you can safely view the sun with a solar telescope or take part in science demonstrations and story times, so children can learn about famous aviators, hot-air-balloon flights and more. Check the website for scheduling.
5. Make Your Trip Easier With These Tips
The museum is open daily from 10:00 a.m. until 5:30 p.m., allowing plenty of time to navigate through asteroids any day of the year, except for 25 December. Weekends can be busy, so arrive early to help beat the crowds who want to see that famous Sopwith Camel too. Also, keep in mind that peak season is March through August and the holiday season.
Because of the construction project, one of the entrances to the Museum in Washington, DC has been closed. All visitors can use the Jefferson Drive (National Mall) entrance.
Be prepared to go through security and leave those selfie sticks at home. Other non-permitted items include: guns, knives, pets, tripods and a few others. Although you aren't allowed to bring photography equipment, cameras are welcome and photography itself is encouraged! Snap away and make sure to share with the museum on your social media feed. While outside food and drinks aren't permitted, visit the on-site cafe at the museum in Washington, DC for a pick-me-up of sandwiches, salads and other grab-and-go items or pop in the full-service McDonald's at the Udvar-Hazy Center (open through mid-July).